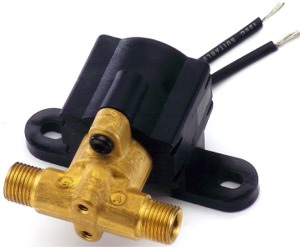 New Britain, CT - Peter Paul Electronics Co., Inc., has developed a new option for its Series 40 valve line, using a forged brass body in lieu of the standard all-plastic construction.
The revolutionary design of the Series 40 valves employs an all-plastic bobbin core as the sleeve, which simplifies its manufacture and produces a low-cost, high-quality part. The Series 40 with an optional forged brass, no-leak body has applications in laboratory equipment and media analysis devices.
The Series 40 valve group is available as a 2-Way normally closed, and 3-Way normally closed, exhaust to atmosphere, and piped exhaust. These valves may be used with air, inert gas and liquid media, from vacuum to 300 psi, depending on orifice size and configuration.
The Series 40 operates in a temperature range of 0° F (-18°C) to 104° F (40° C) ambient, (60°C media) and comes with standard 24-inch lead wires. Variations include: the 1/8" NPT Male (See attached photo); 1/4" compression fittings with filter housing; 1/4" compression fittings; 1/8" NPT female.
The 45-year-old Peter Paul E1ectronlcs provides, through distributors worldwide, a broad range of standard and miniature solenoid valves; explosion-proof, high-flow, and high pressure models; complimentary manifolds and stacking bodies in stainless, brass, or aluminum; solenoid valve operators for OEM applications; and a vast array of body, housing, and coil options for specialty valve construction. Most Peter Paul solenoid valves are UL and CSA listed.
For further information, contact:
Peter Paul Electronics Co., Inc.
480 John Downey Dr.
PO Box 1180
New Britain, CT 06050-1180
Phone: 860-229-4884
FAX: 860-223-1734
E-MAIL: info@peterpaul.com