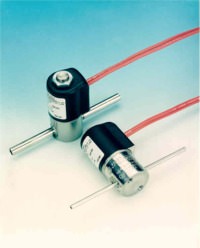 Designed to meet today's stringent requirements for chip manufacturing, analysis equipment, and other types of ultra high purity equipment requiring all welded components, Peter Paul Electronics Co., Inc., New Britain, Connecticut, has announced a new, completely sealed Series 50 solenoid valve.
Two examples of the new, sealed Peter Paul Series 50 solenoid valves for electronis chip manufacturer are showm. A 24 VDC, 7.0watt, 1/16 orifice, 100 psi solenoid valve (top) is offered with grommet housing and 1/4" O.D. stainless steel tubing welded to the body; the sleeve assembly is threaded to the body and sealed with an elatomeric gasket. The valve above incorporates welded 1/8" O.D. input/output tubing but with body and sleeve assembly welded together, eliminating the gasket and threads, for total, positive permanent sealing.
Available in a 2-Way, Normally Closed configuration, the valve be produced in many AC or DC voltages. Series 50 valves feature all 430°F stainless steel construction with either 1/8" or 1 /4" 0.D. stainless steel welded tubing as their port connections. The sleeve assemblies of these valves can be attached with threads and elastomeric seals or, for the most critical applications, with the body welded directly to the sleeve assembly. Both grommet and conduit-style housings are offered.
Employing all Peter Paul standard components for millions of trouble-free operating cycles, these fully sealed Series 50 solenoid valves are available with all standard options including 3-way operation, quiet operating diode rectified coils, and more for continuous operation at maximum rated pressures, as required. The factory may be consulted for operating specifications or environments beyond the range of the current Series 50 solenoid valve models.
The 45-year-old Peter Paul E1ectronlcs provides, through distributors worldwide, a broad range of standard and miniature solenoid valves; explosion-proof, high-flow, and high pressure models; complimentary manifolds and stacking bodies in stainless, brass, or aluminum; solenoid valve operators for OEM applications; and a vast array of body, housing, and coil options for specialty valve construction. Most Peter Paul solenoid valves are UL and CSA listed.
For further information, write:
Sealed Series 50 Valves
Peter Paul Electronics Co., Inc.
480 john Downey Drive, P.O. Box 1180
New Britain, CT 06050-1180.
Phone: 860-229-4884
Fax: 860-223-1734
E-mail: info@peterpaul.com