Series 50 SLLW Model SLLW53
Encapsulated Very Low Watt
3-Way Normally Closed Valve (piped exhaust)
General purpose for pneumatic applications. For use on air and common gases, compatible with standard Buna seals. Other media require special seal materials. The SLLW Valve is not a safety valve.
• General purpose valve with greatly reduced power consumption.
• Increased versatility.
• NEMA 4 rating is standard with encapsulated coil.
• High quality engineering.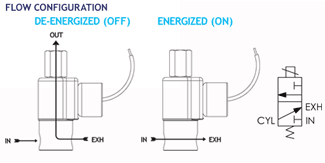 SPECIFICATIONS
2-D & 3-D CAD DRAWING
FLOW CHART
NOMENCLATURE
VALVE SPECIFICATIONS
MAX. OPER.
PRESS. DIFF.
ORIFICE SIZE
CV FACTOR
VALVE NUMBER
GAS ONLY
DC
N.C.
N.O.
N.C.
N.O.
120
1/32
1/32
.022
.020
SLLW53GG8XCCP
WHEN ORDERING VALVES OR REPAIR PACKS ADD VOLTAGE AND FREQUENCY TO COMPLETE
VALVE NUMBER. EXAMPLES: VALVE (SLLW53GG8XCCP-12/DC) REPAIR PACK (KSLLW53GGX-DC)
OPERATING CONDITIONS
Media: Air and other common gases only.*
Valve Temperature Range: Standard Valves – 0°F (-18°C) to 140°F (60°C) ambient; 0°F (-18°C) to 150°F (65°C) media. Optional Valves – can tolerate much higher or much lower ambient and media temperatures.*
Maximum Operating Pressure Differentials: See table above.
Burst Pressure: 5000 PSI
Leakage: Bubble tight for standard valves.
Vacuum: To 5 Microns*
ELECTRICAL CHARACTERISTICS
Coil Voltage: 1.9 to 63V DC
Nominal Power: DC — .50 Watts
Coil Construction: Encapsulated Class F Coil with third wire ground
Typical Response Time on Air: 4 - 16 Milliseconds
Operating Speed: Up to 600 CPM
Duty Cycle: Continuous
MECHANICAL CHARACTERISTICS
Body: Stainless Steel (Std.) or Brass (Opt.)
Internal Components: Stainless Steel
Elastomers: Nitrile (Buna) (Std.). Many other elastomers available.*
Orifice Diameter: See table above.
Porting: 1/8" NPT (Std.)
Housing: Encapsulated with 1/2" NPT conduit
Life Expectancy: Millions of cycles, depending on application, lubrication, etc.
Valve Weight: 0.60 lbs
Repair Packs: See table above.
Options: Alternate Port Locations, Metering, and Alternate Elastomers*
* Consult representative or factory for options and specifications.
Series 50SLLW Encapsulated Low Watt Valves Conduit Connection

3WNC PIPED EXHAUST
CONDUIT CONNECTION

10-32 PORTS
3WNC PIPED EXHAUST
CONDUIT CONNECTION

BODY OPTION "E"
3WNC PIPED EXHAUST
CONDUIT CONNECTION

BODY OPTION "O"
3WNC PIPED EXHAUST
CONDUIT CONNECTION

BODY OPTION "R"
3WNC PIPED EXHAUST
CONDUIT CONNECTION

METERED BODY
3WNC PIPED EXHAUST
CONDUIT CONNECTION