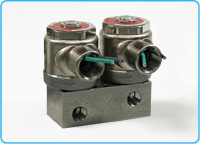 Series 20 Model EH23
Hazardous Location High Pressure
3-Way Normally Closed Valve (exhaust to atmosphere)
A complete line of valves with a great selection of options and exceptional proven performance. Using the heart of the highly successful model H22, Peter Paul Electronics has a dual operator valve that allows the same media control as a three way normally closed valve but at much higher pressure ratings than previously available. To function as a 3-way normally closed valve, operators must be alternately energized and de-energized. Pressure applied to the "IN" port must always be equal to or greater than the pressure in "CYL" port. Air and other non-corrosive gasses, water and oil.
• Made for higher pressure ratings.
• Precision stainless steel, free floating plunger.
• Kel-F pin sealing element.
• Orifice guides the sealing pin for near perfect alignment.
• Simple construction...only two moving parts.
• Explosion proof construction.

SPECIFICATIONS
2-D & 3-D CAD DRAWING
FLOW CHART
NOMENCLATURE
VALVE SPECIFICATIONS
GAS PRESSURE RATINGS
ORIFICE SIZE
CV FACTOR
VALVE NUMBER
AC
DC
1/4 NPT PORTS
3000
3000
1/32
.022
EH23GG19DCCM
2500
1500
3/64
.041
EH23HH19DCCMG
1750
500
1/16
.065
EH23JJ19DCCMG
650
100
3/32
.100
EH23KK19DCCMG
LIQUID PRESSURE RATINGS
ORIFICE SIZE
CV FACTOR
VALVE NUMBER
AC
DC
1/4 NPT PORTS
3000
3000
1/32
.022
EH23GG19DCCM
1500
1500
3/64
.041
EH23HH19DCCML
1000
500
1/16
.065
EH23JJ19DCCML
300
100
3/32
.100
EH23KK19DCCML
WHEN ORDERING VALVES OR REPAIR KITS ADD VOLTAGE AND FREQUENCY TO COMPLETE
VALVE NUMBER. EXAMPLES: VALVE (EH23JJ19DCCML-120/60) REPAIR KIT (2KEH23JJ-AC)
OPERATING CONDITIONS
Media: Air and other non-corrosive gasses, water and oil.
Filtration: Down to 60 microns or less is recommended.
Valve Temperature Range: Standard Valves – 0°F (-18°C) to a maximum of 221°F (105°C) including coil heat rise, ambient and media temperatures. Other temperature ranges available on request — along with specific application parameter information specified.*
Maximum Operating Pressure Differentials: See table above.
Burst Pressure: 10,000 PSI
Leakage: Bubbletight (with polymer sealing pins)
ELECTRICAL CHARACTERISTICS
Coil Voltage: 6 to 825V AC 60 HZ. and 5 to 720V AC 50 HZ.— 1.8 to 265V DC
Nominal Power: AC — 7.3 Watts DC — 9.5 Watts (Per Operator)
Coil Construction: Molded Class F with third wire ground (Std.), Class H or Potted (Opt.)
Typical Response Time on Air: 4 - 16 Milliseconds
Operating Speed: Up to 600 CPM with gas media
Duty Cycle: Continuous
MECHANICAL CHARACTERISTICS
Body: 300 Series Stainless Steel
Internal Components: Stainless Steel
Elastomers: Nitrile (Buna) (Std.). Many other elastomers available.*
Sealing Pin: Kel-F (Std.), Delrin®, Teflon®, Nylon, PEEK, Radel®, Ultem®, 303 Stainless Steel (Opt.)
Orifice Diameter: See table above.
Porting: 1/4" NPT
Housing: Flame-Proof Construction with 1/2" NPT conduit
Mounting: Must be mounted within 30° of vertical.
Listings: Valves are UL listed and certified for Hazard Locations — Class I, Div 1, Group C and D - Class II, Div 1, Group E, F, and G; Div 2, Groups C, D, E, F, and G.
Life Expectancy: Millions of cycles, depending on application, lubrication, etc.
Valve Weight: 3.63 lbs
Repair Kits: See table above.
Options: Alternate Sealing Pin Materials and Alternate Elastomers*
* Consult representative or factory for options and specifications.
Series 20 Model EH23

3WNC
EXPLOSION PROOF/HIGH PRESSURE