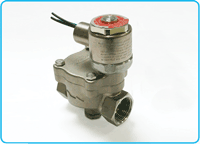 Series 80 Model E828 C/I Rated
Large Orifice, Internally Piloted
2-Way Normally Closed Valve
Peter Paul offers a line of Hazardous Location rated, large orifice Automatic Safety Shut Off Valves designed specifically for gas appliances. These valves meet the standards for Commercial/Industrial (C/I) Safety Shut Off Valves per ANSI Z21.21 (CSA 6.5). They are well suited for use in heating equipment, furnaces, ovens, kilns, boilers and gas generators.
• Large orifice sizes for high capacity.
• Body is made of 316 stainless steel.
• Potted coil for outdoor service.
• Operates on differential pressure — Internal Pilot.
• Voltages: 120/60, 12/DC and 24/DC
• Power Input: 1.8 watts
• Rated for ambient temperatures of -40°C to +65°C
• NPT threaded connections.

SPECIFICATIONS
2-D & 3-D CAD DRAWING
FLOW CHART
NOMENCLATURE
VALVE SPECIFICATIONS
MAX. OPER.
PRESS. DIFF.
MIN. OPER.
PRESS. DIFF.
GAS CAPACITY
BTU/Hr
CV FACTOR
PIPE SIZE
VALVE NUMBER
AC
DC
N.C.
N.C.
30
30
3
3,375,000
5.8
3/4 NPT
E828Y29DCCP-S
30
30
3
7,575,000
13.0
1 NPT
E828D23DCCP-S
30
30
3
16,875,000
29.0
1 1/2 NPT
E828E24DCCP-S
Capacity is calculated at a 3 PSI pressure drop, 7.5 PSI inlet pressure with 1,000 BTU/Cu. FT, .64 Specific Gravity Gas
WHEN ORDERING VALVES OR REPAIR KITS ADD VOLTAGE AND FREQUENCY TO COMPLETE VALVE NUMBER. EXAMPLES: VALVE (E828D23DCCP-S 24/DC) SOLENOID REPAIR KIT (80-30043-DC or 80-30043-AC) BODY REPAIR KIT (80-30044 for 3/4", 80-30045 for 1", 80-30046 for 1 1/2")
OPERATING CONDITIONS
Media: Fuel gas.
Valve Temperature Range: – 40°F (-40°C) to 150°F (65°C) ambient and media.
Maximum Operating Pressure Differentials: See table above.
Minimum Operating Pressure Differentials: 3 PSI
Leakage: Bubble tight
ELECTRICAL CHARACTERISTICS
Coil Voltage: 120V AC 60 HZ, 12V DC and 24V DC
Nominal Power: 1.8 Watts
Coil Construction: Potted Class F
Operating Speed: Up to 100 CPM
Duty Cycle: Continuous
MECHANICAL CHARACTERISTICS
Body: 316 Stainless Steel
Internal Components: Stainless Steel (Std.)
Elastomers: Nitrile (Buna) (Std.).
Housing: 1/2" NPT conduit
Life Expectancy: Millions of cycles, depending on application variables.
Repair Kits: See table above.
Series 80 Internal Pilot Valve - Explosion Proof Housing

1-1/2" NPT PORTS
2WNC
EXPLOSION PROOF

1/2" NPT PORTS
2WNC
EXPLOSION PROOF

1" NPT PORTS
2WNC
EXPLOSION PROOF

2 1/2" NPT PORTS
2WNC
EXPLOSION PROOF

2" NPT PORTS
2WNC
EXPLOSION PROOF

3/4" NPT PORTS
2WNC
EXPLOSION PROOF

3" NPT PORTS
2WNC
EXPLOSION PROOF
Coming Soon