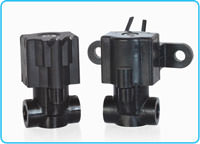 Series 40 Model 43
All-Plastic
3-Way Normally Closed Valve (exhaust to atmosphere)
General purpose valve engineered for economical applications. Engineered for competitive cost and reliable service. The valves can be used with air, inert gas and liquid media.
•Cost competitive.
•Molded plastic exterior with internal stainless steel parts.
•Engineered with proven performance and reliable service.
•Also available with a forged brass body and integral mounting bracket.
•Great for humidifiers, pneumatic actuation systems, beverage dispensers and other equipment.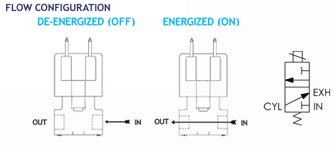 SPECIFICATIONS
2-D & 3-D CAD DRAWING
FLOW CHART
NOMENCLATURE
VALVE SPECIFICATIONS
MAX. OPER.
PRESS. DIFF.
ORIFICE SIZE
CV FACTOR
VALVE NUMBER
AC
DC
N.C.
N.O.
N.C.
N.O.
WITHOUT BRACKET
WITH BRACKET
150
150
1/16
1/16
.090
.075
43JJ15DGM
43JJ15DBGM
 
 
60
60
3/32
3/32
.145
.145
43KK15DGM
43KK15DBGM
 
 
30
30
1/8
3/32
.200
.145
43NK15DGM
43NK15DBGM
 
 
WHEN ORDERING VALVES OR REPAIR PACKS ADD VOLTAGE AND FREQUENCY TO COMPLETE
VALVE NUMBER. EXAMPLES: VALVE (43JJ15DGM-120/60) REPAIR PACK (K43JJD-AC)
OPERATING CONDITIONS 
Media: Air, inert gases and liquid media. (Series 40 pressure ratings may change due to the viscosity of the liquid.)*
Valve Temperature Range: Standard Valves – 0°F (-18°C) to 104°F (40°C) ambient; 0°F (-18°C) to 150°F (65°C) media. Optional Valves – can tolerate much higher or much lower ambient and media temperatures. Do NOT allow water to freeze when using plastic body.
Maximum Operating Pressure Differentials: See table above.
Burst Pressure: 1000 PSI
Leakage: Bubble tight for standard valves.
Vacuum: To 5 Microns*
ELECTRICAL CHARACTERISTICS
Coil Voltage: 12 to 252V AC 60 HZ. and 10.5 to 221V AC 50 HZ. — 4.7 to 100V DC
Nominal Power: AC — 3.3 Watts DC — 5.0 Watts
Coil Construction: Encapsulated Molded Class B with 24" leads
Typical Response Time on Air: 4 - 16 Milliseconds
Operating Speed: Up to 600 CPM
Duty Cycle: Continuous
MECHANICAL CHARACTERISTICS
Body: Polyester Plastic (Std.) or Forged Brass (Opt.)
Internal Components: Stainless Steel
Elastomers: Nitrile (Buna) (Std.). Many other elastomers available.*
Orifice Diameter: See table above.
Porting: 1/8" NPT
Housing: Grommet
Listings: Most valves are UL and CSA listed.
Life Expectancy: Millions of cycles, depending on application, lubrication, etc.
Valve Weight: 0.27 lbs average (with plastic body)
Repair Packs: See table below.
Options: Forged brass body in various porting styles.*
* Consult representative or factory for options and specifications.
Series 40 Model 43
All-Plastic
3-Way Normally Closed Valve (exhaust to atmosphere)

MODEL 43 (NO BRACKET)
3WNC EXHAUST TO ATMOSPHERE
MOLDED WITH LEADS

MODEL 43 (WITH BRACKET)
3WNC EXHAUST TO ATMOSPHERE
MOLDED WITH LEADS