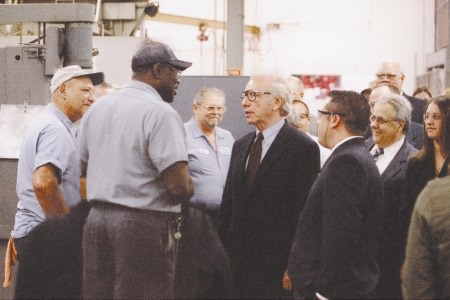 United States Senator Joseph I. Lieberman's office, Central Connecticut State University (CCSU) and Peter Paul Electronics, Inc. held a joint Press Conference at Peter Paul Electronics to announce a new Commerce, State and Justice Grant Appropriation for $500,000. Peter Paul has been the recipient of funding from the current year's grant and has performed extensive productivity and process improvements in recent months, which were featured during the Conference.
Central Connecticut State University's Institute for Technology and Business Development (ITBD) will receive and administer the new federal funds to increase competitiveness through advanced processes such as "Lean Manufacturing" and "Kaizen". Funding for the Grant was secured by Senators Christopher Dodd and Joe Lieberman, and by U.S. Representative Nancy Johnson.
Peter Paul Electronics was established in 1947 and employs worldwide distribution for its broad range of standard and miniature solenoid valves, explosion proof, high-flow and high pressure models; complementary manifolds and stacking bodies in stainless, brass or aluminum; solenoid valve operators for OEM use; and a vast array of body, housing and coil options for standard and special applications. Most are UL and CSA listed.