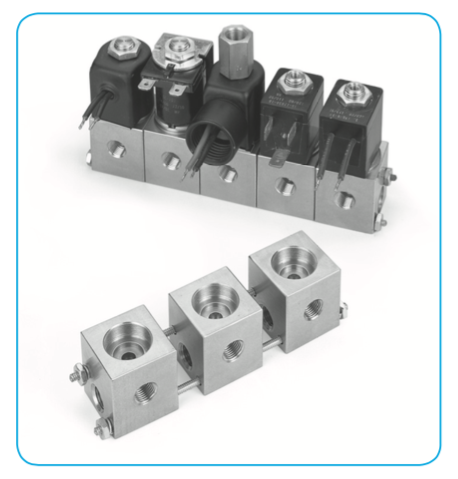 STACKING VALVE BODIES
BUILD YOUR OWN MANIFOLD
The stacking valve body creates the opportunity to tightly pack multiple solenoid valves into one package, with a common inlet or outlet depending on the needs of the application.
Applicable markets include emission analyzer systems, chemical and gas processing, soda dispensing; any market needing common inlet or outlet for multiple valves.
The center flow path connects all the common ports and the body includes an o-ring to prevent external leakage at the connections.
All Series 15 and 50 valves have this 303 stainless steel stackable body as an option. The Cv's, pressure ratings, and coil and housing options all transfer to this body design.
The manifold can include different Cv rates, as long as the lowest maximum pressure rating is used for the system.
Tie rod kits are available in all lengths from a 2 valve assembly to an 8 valve assembly. Tie rod part number: 50-26034-#. # is the number of stations desired.
To order, select the 15 or 50 series valve that meets all the other application requirements, and ask for the stacking body when ordering. Common inlet or common outlet must be specified, as well as the voltage.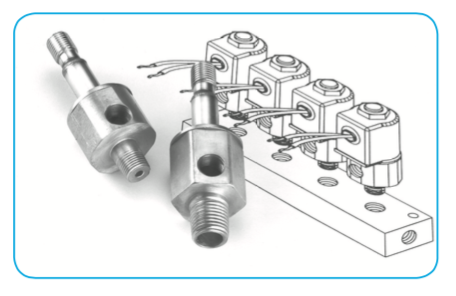 Broad Range of Solenoid Valve Manifolds
Standard, conventional, one piece machined stainless steel, aluminum, or optional brass manifolds allow the economical, low pro le grouping of valves in compact arrays. These manifolds are perfect for xed, continuous operations. Available with Series 50, 30, 20 and 70 operators.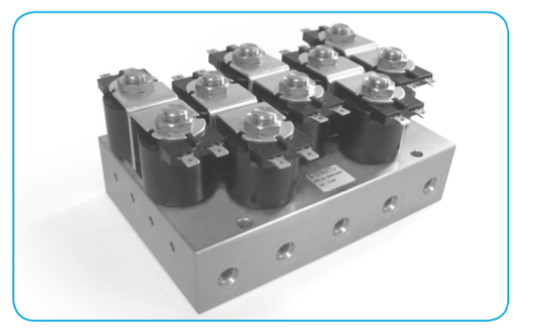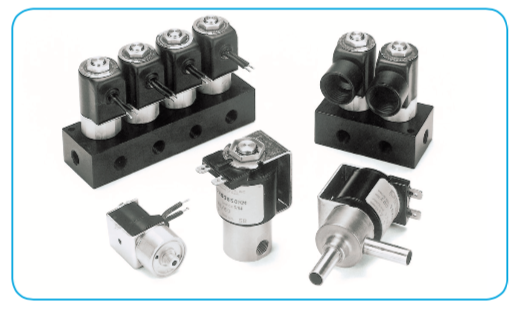 Easily Mounted Screw-In Solenoid
Valve Bodies Now Offered
Our brass, screw-in solenoid valve 1/8" NPT and 1/4" NPT male ports simplify valve to manifold attachment and manifold production. The brass valve bodies help to eliminate leakage and provide required high burst pressure ratings and also make manifolds easier to produce, with one center drill connecting the valves.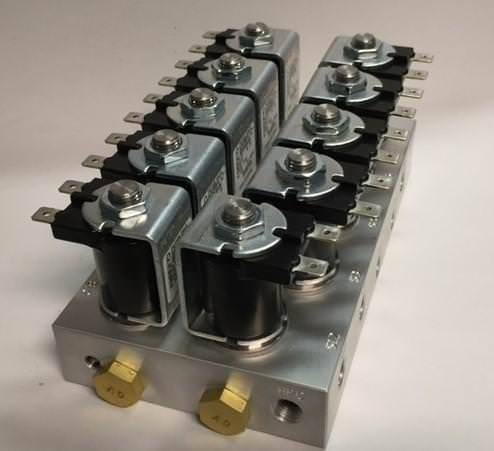 A broad range of standard and custom solenoid valve manifolds in brass, aluminum, and stainless steel for are Series 20, 30, 50, and 70 OEM solenoid operators are available from Peter Paul Electronics Co., Inc.
Manifolds represent an economical, reliable method for grouping solenoid valves in low profile, compact arrays in applications from beverage dispensing to medical equipment. With less piping and fewer fittings, the use of manifolds allows faster solenoid valve installation with significantly reducing potential for leakage and thread damage. Valve groups are frequently delivered assembled-to-manifold and fully factory tested for leak free operation at specified pressures.
Where possible, valve mounting bases are used so that the manifolds may be simply and inexpensively drilled and tapped. On the other hand, creating custom cavities and seats in stainless steel manifolds blocks is frequently a complex manufacturing solution to applications where valve/manifold height is a primary consolidation.
Standard PeterPaul manifolds are offered with 2, 4, 6, and 8 stations, but virtually any linear or over/under manifold configuration can be specified. In addition, PeterPaul provides a life of modular, anodized aluminum or stainless steel stacking valves linked together with common tie rods. For horizontal or vertical mounting, these stacking valves simplify in-the-field solenoid valve addition or replacement, accommodating housing from any of the standard PeterPaul series.
Standard and custom brass, aluminum and stainless steel manifolds and stacking bodies produced by PeterPaul include (clockwise from 6) anodized aluminum modular stacking bodies with a variety of valve housing and common tie rods; anodized aluminum 2-station manifold with Series 50 grommet valves; stainless steel 8-station directional control valve with Series 30 conduit valves; special 2-station aluminum block with Series 30 spade terminal coils; brass 3-station manifold with Series 15 DIN style connectors; brass manifold with 2-way NC series 30 grommet valves; and 6-station anodized aluminum manifold with Series 50 yoke/spade terminal coils.