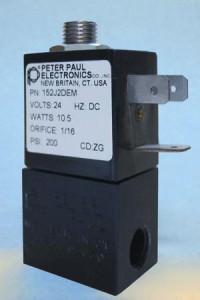 Peter Paul introduces its low-cost, magnetic latching valve in a small package with pressures to 500 psi, for use where power is limited or coil heating is undesirable. This small, economical package can be used in tight spaces and remote areas where continuous power may not be available, or in battery-powered portable equipment. It also has uses in medical and chemical analyzers where continuous application of power causes unwanted coil heat.
The new valve is offered in 6-60 Volts DC and draws approximately 7 Watts when energized. A coil and rare earth magnet assembly, encapsulated into a single package is offered with either a lead wire or Male DIN style connection. The 2 WNC valve package with leads is only 2.50 " (63.5 mm) H x .1.13" (28.6 mm) W. The unit requires only 30 milliseconds of power application to latch or unlatch. When latching, the magnetic polarity of the coil and magnet form a strong pull on the valve plunger, which moves it to the energized position. It is kept there through the strength of the magnet alone. To unlatch, the field of the DC coil voltage is briefly reversed.
Peter Paul Electronics, established in 1947, provides through worldwide distribution a broad range of standard and miniature solenoid valves, explosion proof, high-flow and high pressure models - most UL and CSA listed; complementary manifolds and stacking bodies in stainless, brass or aluminum; solenoid valve operators for OEM use; and a vast array of body, housing and coil options for standard and special applications.
For further information, contact:
Mini Magnetic Latching Valve
Peter Paul Electronics Co., Inc.
480 John Downey Dr., P.O. Box 1180
New Britain, CT 06050-1180
Phone: 860-229-4884
Fax: 860-223-1734
E-mail: info@peterpaul.com