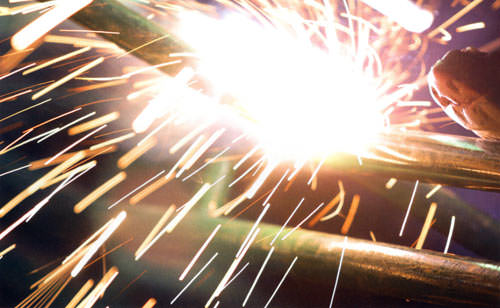 Three generations after its founding, Peter Paul Electronics is still a family business, although change has been essential to the its survival.
by Hanna Aronovich
PROFILE
PeterPaulElectronics Co.
www.peterpaul.com
2006 sales Approx. $15 million
HQ New Britain, Conn.
Employees 150
Products Solenoid valves
Lisa Mangiafico analyst "The state is working to promote local manufacturers."
Peter Paul Electronics's solenoid valves can be found in a variety of shop floor applications.
As is common with companies that have been in business for multiple generations, change doesn't always come easily, but it is necessary for survival. Such is the case with Connecticut-based valve manufacturer Peter Paul Electronics Co.
"At Peter Paul Electronics, change was necessary in order to compete with overseas imports and our customers' demands," Market Research Analyst Lisa Mangiafico says. "We needed to improve our manufacturing operations."
A third-generation company, Peter Paul Electronics was founded in 1947 by Mangiafico's grandparents, Paul and Josephine Mangiafico.
Several additional family members are involved in the day-to-day operations of Peter Paul Electronics including President Paul S. Mangiafico, Secretary Sandra Mangiafico, Chief Engineer Mark Mangiafico, Sales Application Engineer Gary Mangiafico, Operations Manager Michael Mangiafico II and Customer Service Representative Arelis Mangiafico.
The organization's sister company based in Puerto Rico, coil manufacturer Peter Paul Electric Inc., also employs members of the family,including President Michael Mangiafico Sr., Vice President Kevin Mangiafico and Secretary/Treasurer Virginia Mangiafico.
STAYING COMPETITIVE
Many of the changes to which Lisa Mangiafico refers trace back about three years ago,when Peter Paul Electronics started on its lean manufacturing journey to help reduce lead times, be more cost effective and optimize equipment usage. The company received state funding from the Connecticut Center for Advanced Technology as part of an initiative to promote domestic manufacturing, and was able to invest in lean training programs
and events.
"U.S. Senator from Connecticut [Joe] Lieberman came to visit us and encourage our lean journey," Mangiafico says. 'The state is working to promote local manufacturers and learn how they can help them through funding and other initiatives."
Peter Paul Electronics manufactures electrically operated solenoid valves and operators in its 77,o00-square-foot facility in New Britain, Conn. One of the significant production improvements the company made has substantially reduced set-up time on its machines. "
Machine set up previously took up to three weeks, but with our aggressive, lean efforts we have reduced set up times to a matter of hours," Mangiafico explains, noting that this change has enabled the company to run smaller batches - a preference for most customers.
Peter Paul Electronics is also working with vendors on lean and creating a kanban process. "Many of our vendors are looking to go lean, too, so we are working with them on those initiatives," Mangiafico adds.
Investing in CNC machines has been another initiative, although Mangiafico says the high cost of these machines makes it a challenge for the company to fully replacing existing capital equipment.
"We're investing where we can and making the most of our older machines," Mangiafico explains. "We also have formal training for all our employees to train them on our new machines and new processes." ISO certification is another goal. "We know the importance and significance certification can make for us," she says. As a result of these improvements, Peter Paul Electronics received the Small Business Administration award as Small Business Exporter of the Year in 2006.
CONTINUOUS IMPROVEMENT
Most Peter Paul solenoid valves and solenoid operators are built and tested to Underwriters Laboratories standards and have Canadian Standard Association Certification. Peter Paul also carries products that conform to NSF regulations for select food-grade valve applications.
Peter Paul Electronics says it offers valves in a variety of combinations, including "vacuum to 3,000 PSI, voltage ratings from direct current up to 400 cycles and from 1.0 volt up to 1,000 volts, metering from one drop per minute up to gallons, and various other mechanical and electrical options."
Mangiafico says the majority of the company's sales are in the industrial market and the company also markets products in medical, automotive and process industries.
Peter Paul Electronics sells its products through a worldwide distribution network of 65 distributors. Mangiafico stresses that distributor relationships are important to the company and that many of the distributors "have been with us since the beginning."
In the last few years, sales channels in Asia and Europe have grown substantially. It also sells into Central/South American and African markets, as well as more than 60 countries.
Mangiafico states that Peter Paul Electronics is committed to improve on its lean efforts, reduce set-up and lead times and ensure that customers are satisfied with on-time deliveries. "We manufacture quality and affordable products," she says.