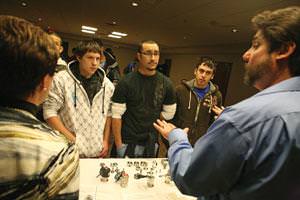 By SCOTT WHIPPLE
Staff writer
NEW BRITAIN - At New Britain's first career fair in a decade, high school seniors got an introduction to manufacturing jobs and, hopefully, their future.
"Our goal is to put together students with the employers to help them find the jobs of tomorrow," said Gerry Berthiaume, Future Workforce coordinator for the chamber.
The first New Britain Chamber of Commerce Career Fair, held Tuesday at La Quinta Inns & Suites, hosted 87 students - 41 from New Britain High School and 46 from E.C. Goodwin Tech, along with both principals and seven guidance counselors, to hear presentations from representatives of local manufacturers.
More than 15 businesses were represented, including The Stanley Works, Celebration Foods, Okay Industries and Peter Paul Electronics.
Berthiaume said Tuesday's fair introduced students to manufacturing; the next fair will focus on health care, followed by finance and insurance and retail and hospitality.
"A lot of kids in the city don't identify with local companies," he explained. "They don't know that a Peter Paul Electronics exists."
Peter Paul, on John Downey Drive, manufactures valves and coils for the aerospace industry and markets its products in Europe and in Asia.
Most of the students listened intently to Alan Cordner's presentation. A plant manager for Peter Paul, Cordner is a tech school graduate who first worked as a screw machine production person, learning machine tools.
When a friend told Cordner a manufacturing job was available at Peter Paul, he applied. With his education and machining background, he landed a job as supervisor in the welding department. From 1982 through 1992 Cordner was trained in most manufacturing jobs and in 1992 was promoted to general foreman. In 1999 he was named manufacturing manager.
Cordner summed up his 26 years at Peter Paul with the comment, "I was hungry and wanted to learn. Peter Paul gave me the opportunity and allowed me to express my views. I had to prove myself. This allowed me to be committed to the company."
His advice to high school students: "Hard work, perseverance and taking advantage of everything a company has to offer is the key to success."
Cordner said that despite the economic downturn Peter Paul is doing well and might be hiring machine operators this summer.
Summing up the first chamber career fair, Berthiaume said, "Today, we connected schools with the business community. There had been a disconnect for some time. Now kids have a knowledge of manufacturing as a possible career. Certainly the opportunities for them are there."