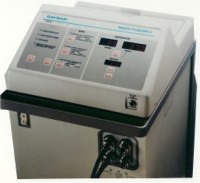 The EDRO Corporation, founded in 1946 in Connecticut, introduced a new machine design for the commercial laundry market in 1954. Their combination washer-extractor eliminated the time-consuming step of transferring the water-laden laundry from washer to a separate extractor, while the patented 3D Dyna WashTM cylinder provided a space-saving triangular floor design for superior wash action and minimum vibration during extraction due to its evenly distributed load. This improved the productivity of the washroom while increasing the efficiency of labor usage and utility consumption. Widely employed in hospitals, hotels, nursing homes, commercial laundries, correctional facilities, and cruise ships, EDRO is the leading supplier of shipboard washer-extractors to the U.S. Navy, with units currently operating on 540 of the 600 active duty ships.
This EDRO DX250 Tilt open pocket washer-extractor features automated tilt-to-load and door opening functions, plus six speed operation at up to 330 RPM via microprocessor control. Used by a clothing manufacturer to process stone washed jeans, it offers pneumatic brake, door lock, and drain functions which help conserve energy and water usage. The 250 pound (11 Kg.) capacity washer is also used by hotels, hospitals, commercial laundries, and similar establishments.
In the 1950's and early 60's, when machines of 200-300 pound capacity were considered large, many machine functions including drain, brake, and clutch were gear driven. While this technology was widespread and well understood, gear driven functions were inherently slow, somewhat inefficient, and prone to mechanical failure. Relatively low capacity washer-extractors (up to, perhaps, 100 pound capacity) could be configured with all electric drive motors, but the increasingly high capacity machines required in the marketplace, now in the 400-800 pound volume range, were not good candidates for motor drives.
As a result, suggests EDRO Director Of Sales & Marketing Edward S. Kirejczyk III, the company concluded that pneumatic or air drives for many laundry machine functions were faster, cleaner, and more responsive, especially given the availability of low cost, reliable microprocessor controls. The employment of standard solenoid valves, typically mounted external to the washer-extractor for accessibility, seemed superior to all-electric controls by eliminating the possibility of switch burn-out when contacts remain closed for extended periods.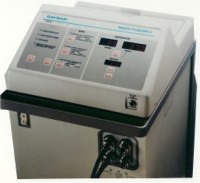 A series of Peter Paul solenoid valves, mounted externally on the electronics cabinet of an EDRO Model DW600PNSWE-13AER Dyna WashTM
With fully automated cycles from loading to washing, moisture removal, final conditioning, and unloading, air actuated brakes have been found to be stronger and longer lasting than their electric counterparts, providing more positive and timely stops without operator intervention. Even the drain and door lock functions on most machines over 50 pound capacity are now controlled by an air cylinder and valve for reliability and low cost operation.
According to Mr. Kirejczyk, EDRO builds about one commercial-strength washer-extractor daily year round, most of them equipped with Series 20, 3-way, multi-purpose solenoid valves from Connecticut-based Peter Paul Electronics Co., Inc. The ready availability of production quantities of these valves has, over a period of time, made the transition to air actuation a simple and profitable choice for EDRO, while providing more reliable equipment for users worldwide.
For further information, write:
Solenoid Valves
Peter Paul Electronics Co., Inc.
480 John Downey Drive, P.O. Box 1180
New Britain, CT 06050-1180
Phone: 860-229-4884
Fax: 860-223-1734
E-mail: info@peterpaul.com