Peter Paul Electronics Co., Inc., has announced the development of a new Squirt valve, an in-line, two-way Normally Closed Series 50 or 15-solenoid valve with double plunger seal, which does not allow continuous flow, but will shut off, energized or de-energized. This prevents a continuous flow condition if someone accidentally left the Squirt valve "on". You get one squirt or drop and no more.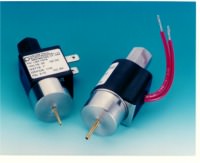 Peter Paul Squirt Valves Series 15 (left) and Series 50 (right) are part of a family of Squirt valves for process industries and special applications. This valve was originally developed for making a continuous web of cloth, paper, wood or anything moving on a conveyor which needs to be marked.
Its main claim to fame is probably its size, currently 50 and 15 solenoid valves with a variety of tube sizes, which control drop size. Low-pressure ratings of 2 psi to 10 psi are available; anything less than two pounds pressure does not provide enough velocity for a good squirt or drop.
Because this valve was originally developed for marking cloth with dye to highlight defects in yard goods, the valve had to meet both small size and low cost requirements. This might be called non-critical dispensing: It doesn't have to be perfectly exact for oil or any light liquid. If a drop of oil were dispensed on a bearing before assembling it, the application would be good enough. The same could be suggested with glue, other types of lubricants, sealants...any light liquid dispensed at low pressure in drop increments.
The small dispenser tube is critical only in its diameter and controls drop size and squirt length. The bigger the drop, the shorter the carry.
These mostly stainless steel versions are available in either AC or DC.
The 55-year-old Peter Paul Electronics Co., through a worldwide distributor network, provides a broad range of standard and miniature solenoid valves; Explosion-Proof, High-Flow, and High Pressure models; complimentary manifolds and stacking valves in stainless, brass, or aluminum; solenoid valve operators for OEM use; and a vast array of body, housing, and coil options for standard and special applications. Most Peter Paul solenoid valves are UL recognized and CSA listed.
For further information, write:
Squirt Valve
Peter Paul Electronics Co., Inc.
480 John Downey Drive
P.O. Box 1180
New Britain, CT 06050-1180
Phone: 860 229-4884
Fax: 860-223-1734
E-Mail: info@peterpaul.com