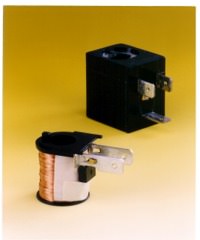 A full wave bridge can now be encapsulated into the coil assembly of Peter Paul Series 15 solenoid valves, according to Peter Paul Electronics Co., Inc., New Britain, Connecticut. By embedding the required electronics in the coil, a DC valve can be driven by common AC voltages.
Photo shows a complete standard Series 15 coil, plus a cutaway version showing the application of the encapsulated diode on the Series 15 coil.
Each valve's encapsulated coil contains a diode circuit that converts common 50/60 Hz voltage to DC. Running the coil on DC eliminates the in-rush current associated with AC valves, thus limiting the excessive heat build-up encountered with frequently cycled valves. The use of DC coil voltage also allows the use of an elastomeric damper within the valve itself. This damper reduces the audible click, which occurs on actuation as well as increases the life of the valve, for a wide range of hospital and laboratory applications.
The 55-year-old Peter Paul Electronics Co., through a worldwide distributor network, provides a broad range of standard and miniature solenoid valves; Explosion-Proof, High-Flow, and High Pressure models; complimentary manifolds and stacking valves in stainless, brass, or aluminum; solenoid valve operators for OEM use; and a vast array of body, housing, and coil options for, standard and special applications. Most Peter Paul solenoid valves are UL recognized and CSA listed.
For further information, write:
Series 15
Peter Paul Electronics Co., Inc.
480 John Downey Drive
P.O. Box 1180
New Britain, CT 06050-1180.
Phone: 860 229-4884
Fax: 860 223-1734
E-mail: info@peterpaul.com