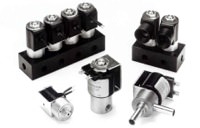 Background:
Peter Paul Electronics provides a number of solenoid valve and manifold combinations for the refigerant recovery / recycle equipment market, including Series 50 valves and Series 20 (center and lower right) valves, plus stainless steel, brass, and aluminum manifolds. The built-in Peter Paul back pressure design on some models eliminates redundant check valves by stopping possible refrigerant leakage to atmosphere during HVACR system servicing.
The Environmental Protection Agency is now beginning seriously to enforce the provisions of the Clean Air Act involving recovery and recycling of chlorofluorocarbons (CFC's) used as the refrigerants in air conditioning systems, auto air conditioners, and refrigerators. The manufacture of these CFC's will be totally banned at the end of 1995 because of the threat they pose to the Earth's ozone layer which blocks the sun's harmful ultraviolet rays.
After May 25, 1993, any technician opening up a charged system without using a certified refrigerant recovery or recycling unit will be in violation of the Clean Air Act. After July 23, 1993, anyone repairing air conditioning and refrigeration systems without having self-certified to the EPA that recovery and recycling devices are being used will also be in violation of the Clean Air Act.
In fact, all technicians working in this field will have to be trained and certified and will be required to use EPA certified refrigerant refilling and capture equipment. In addition, it will be unlawful for anyone to sell or distribute small containers of refrigerant except to a certified HVACR technician to discourage do-it-yourself repairs on auto and home air conditioners.
Just as virtually every auto repair station and dealership has or will eventually have an exhaust emission analyzer so that automobiles will meet mandatory emissions standards, every technician who goes up on a rooftop to service an air conditioner or who charges up vehicular air conditioners will be required to use a portable CFC capture and/or recycle system certified to federal standards. As long as CFC-based coolants are in use, probably for the rest of this century, the market for EPA-mandated refrigerant recovery/recycling equipment will continue to grow.
To meet the needs of the approximately 50 current manufacturers producing portable refrigerant recovery/recycling systems, Peter Paul Electronics Co., Inc., New Britain, Connecticut, has created a family of 2-way and 3-Way, normally open and closed low power consumption solenoid valves with inlet pressure ratings up to 500 psi and complementary manifolds to serve these requirements. Equipped with 1/8 and 1/4 NPT pipe 3/8'" ports, 1/4" copper (sweat) tubing, or provision for manifold mounting, these easy-to-install valves are available with spade terminals, lead wires, or conduit connection for any standard AC or DC voltage application. Orifice sizes range from 1/32" to 1/4", and special NeopreneR seals are incorporated for CFC applications. Compact manifolds of stainless steel, brass, or aluminum with up to eight inlet ports standard help to cover the variety of CFC recycling system designs.
The 45-year-old Peter Paul E1ectronlcs provides, through distributors worldwide, a broad range of standard and miniature solenoid valves; explosion-proof, high-flow, and high pressure models; complimentary manifolds and stacking bodies in stainless, brass, or aluminum; solenoid valve operators for OEM applications; and a vast array of body, housing, and coil options for specialty valve construction. Most Peter Paul solenoid valves are UL and CSA listed.
For further information, write:
CFC Recovery Valves
Peter Paul Electronics Co., Inc.
480 John Downey Drive
P.O. Box 1180
New Britain, CT 06050-1180
Phone: 860 229-4884
Fax: 860 223-1734
E-mail: info@peterpaul.com