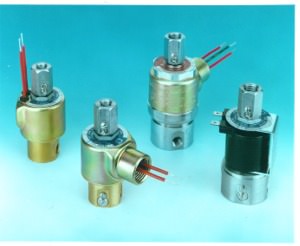 A new, adjustable, stainless steel metered adapter for Series 20 and 30, 2-way N.O. and 3-way solenoid valves provides a manually adjustable flow control to a valve which creates a speed control for the process the valve is controlling.
Adjustable, stainless steel metering adapters shown mounted on our (left to right) Series 30 grommet valve. Series 30 conduit valve with in-body metering, Series 20 Explosion-Proof conduit valve, and Series 20 with spade terminals and in-body metering.
While our solenoid valves can be configured with metering in the valve bodies, the use of metering in the sleeve port adapter on either the top inlet or exhaust allows the user to set the best possible flow parameters for the specific applications. For instance, to restrict the return speed of a cylinder, the metering adapter acts as a damper on the process. With the use of these adapters, it is also possible to pipe the exhaust from the solenoid valve out of the area rather then exhausting directly to atmosphere. The metering adapters are available for either 1/8 NPT or ¼ NPT porting and are used for liquid and gaseous media.
The metering adapter is typically used as a metered exhaust for 3-way normally open valves, or as a metered normally open port in multi-purpose or directional control valves.
The 55-year-old Peter Paul Electronics, through a world-wide distributor network, provides a broad range of Standard, Miniature solenoid valves; Explosion-Proof, High-Flow, and High Pressure models; complimentary manifolds and stacking bodies in stainless, brass, or aluminum; solenoid valve operators for OEM use; and a vast array of body, housing, and coil options for standard and special applications. Most Peter Paul solenoid valves are UL recognized and CSA listed.
For further information, write:
Peter Paul Electronics Co., Inc.
480 John Downey Drive
P.O. Box 1180
New Britain, CT 06050-1180
Phone: 860 229-4884
Fax: 860 223-1734
E-mail: info@peterpaul.com