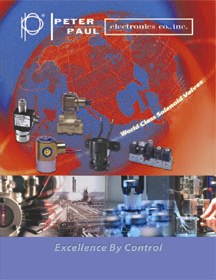 New Britain, CT - Peter Paul introduces its new, expanded catalog containing the company's complete line of solenoid valves, operators, coils and valve options. The new catalog has been expanded from 60 to 110 pages in order to accommodate the substantial growth in offerings. To facilitate this wide range of new products, an easy-to-use section of the catalog is specifically devoted to their description.
In addition to its expansive line of standard valves, operators and coils, Peter Paul offers Explosion-Proof, water -resistant and other special application valves. Various flow, pressure, housing, seal, coil, filter and other options are described. A full complement of value-added engineering, including manifolds, taping and assembly is also detailed. New products include magnet latching, water resistant and forged brass body valves.
Peter Paul Electronics, established in 1947, provides through worldwide distribution a broad range of standard and miniature solenoid valves, Explosion Proof, high-flow and high pressure models - most UL and CSA listed; complementary manifolds and stacking bodies in stainless, brass or aluminum; solenoid valve operators for OEM use; and a vast array of body, housing and coil options for standard and special applications.
For further information, contact: Peter Paul Electronics Co., Inc.
480 John Downey Dr. PO Box 1180
New Britain, CT 06050-1180
Phone: 860-229-4884
FAX: 860-223-1734
E-MAIL: info@peterpaul.com