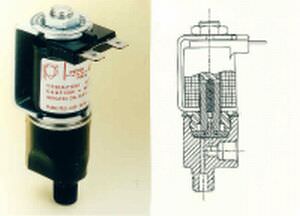 A compact, Series 50 Solenoid Valve utilizing a molded nylon body and a diaphragm which isolates potentially corrosive media from the valve operator parts compatible with nitrile (Buna N), silicone, EPDM, and other available elastomers is now offered by Peter Paul Electronics, New Britain, Connecticut, for applications in the medical, instrumentation, chemical, and food processing industries.
Peter Paul Media Isolation valves employ nylon valve bodies and custom porting to keep corrosive liquid media isolated from the valve operator in medical, instrumentation, chemical, food processing, and similar applications.
This 2-way Normally Closed valve was specifically designed for a customer who had been using a competitor's valve and was experiencing a relatively high reject rate in the field. Working closely with this customer, Peter Paul developed a valve and supplied prototypes which led to production orders. So successful was the Peter Paul design that rejects became nonexistent.
At the present time this valve is available with a 3/64" orifice (0.037 Cv),l/8" NPT female (side) inlet port, and 1/8" NPT male (bottom) outlet port. Rated at 50 psi maximum inlet pressure with a 5 psi maximum back pressure, it provides power of 4.25 watts A.C./7.25 watts D.C. Standard coil voltages are available with 1/4" spade terminal coils.
The back pressure limitation can be eliminated by reducing the inlet pressure to 35 psi and using an intermittent duty coil, power rated at 17 watts D.C. to provide a duty cycle of 0.167 minutes ON maximum and 0.833 minutes OFF. Other orifice sizes can be made available (consult factory).
The 45-year-old Peter Paul E1ectronlcs provides, through distributors worldwide, a broad range of standard and miniature solenoid valves; explosion-proof, high-flow, and high pressure models; complimentary manifolds and stacking bodies in stainless, brass, or aluminum; solenoid valve operators for OEM applications; and a vast array of body, housing, and coil options for specialty valve construction. Most Peter Paul solenoid valves are UL and CSA listed.
For further information, write:
Media Isolation Valve
Peter Paul Electronics Co., Inc.
480 John Downey Drive, P.O. Box 1180
New Britain, CT 06050-1180
Phone: 860-229-4884
Fax: 860-223-1734
E-mail: info@peterpaul.com