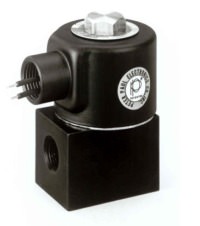 The Series EL50 low wattage, explosion-proof solenoid valves has been announced by Peter Paul Electronics Co., Inc., New Britain, Connecticut, for hazardous duty operation and for use in remote locations requiring solar, battery power, or other limited energy sources.
The recently announced Peter Paul Series EL50, low watt, explosion-proof solenoid valves featuring low power consumption of 1.8 watts AC or DC, left to right, EL53 3-way normally closed and EL52 2-way normally closed.
These general purpose or safety valves, for pneumatic and hydraulic applications require only 1.8 watts AC or DC to provide safe and continuous operations at maximum pressures up to 200 psi involving media including air and other common gases, most refrigerants, public utility gas, fuel oils, steam, some hydraulic fluids, and other aqueous non-flammable liquids. Operating within the temperature range of O°F (-18°C) to 221°F (105°C), EL50 solenoid valves respond in 4-16 milliseconds for operating speeds up to 600 CPM, continuous or Intermittent. Construction is of stainless steel, with all interior components of stainless steel; all stainless steel housings are also available.
Basic models in the EL50 Series include the EL51 (2-way normally open), EL52 (2-way normally closed), EL53 (3-way normally closed; exhaust to atmosphere), and EL53 (3-way normally closed; piped exhaust). Orifice sizes, coil voltages, and pressure differentials may be specified per application. In addition, low watt, explosion-proof valve operators, designated OEL50, are available for OEM applications.
The 45-year-old Peter Paul E1ectronlcs provides, through distributors worldwide, a broad range of standard and miniature solenoid valves; explosion-proof, high-flow, and high pressure models; complimentary manifolds and stacking bodies in stainless, brass, or aluminum; solenoid valve operators for OEM applications; and a vast array of body, housing, and coil options for specialty valve construction. Most Peter Paul solenoid valves are UL and CSA listed.
For further Information, write:
EL50
Peter Paul Electronics Co., Inc.
480 John Downey Drive, P.O. Box 1180
New Britain, CT 06050-1180
Phone: 860-229-4884
Fax: 860-223-1734
E-mail: info@peterpaul.com