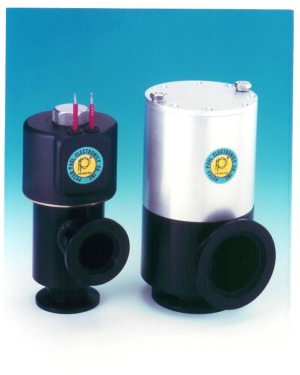 Peter Paul Electronics Co., Inc., New Britain, Connecticut, has announced the development of a new series of solenoid valves for use in vacuum chambers for sterilizing medical instruments. These valves feature high flows; bubble-tight sealing; standard vacuum fittings and standard flanges for international use; electron beam seamless welding of flange to body; purity requirements allowing no trapped particles on the inner diameter; several million cycle endurance for critical life operation; and TeflonTM outside coating to eliminate dust and possible wear-creating particles.
New line of slenoid valves for sterlizing medical instruments includes a large air-operated valve with extended plunger stroke for high flow and a smaller valve, 2-Way, Normally Closed, with 12 VDC power.
Two basic models have been developed: The smaller one is electrically operated with 1/2" orifice, 2-Way Normally Closed, FKM plunger seal and static seal material.
The larger of the new valves is air-operated by cylinder with a 1" orifice to meet high-flow requirements. The spring-loaded assembly seals on the orifice for failsafe operation. Assembly of this larger unit also involves electron beam welding. Both valves employ anodized aluminum bodies with all stainless steel inner moving parts. Of particular interest to prospective users, a major medical products producer required elaborate testing of valve open/close times, as well as extensive endurance testing.
Cutaway of large, air-operated valve shows 1" orifice.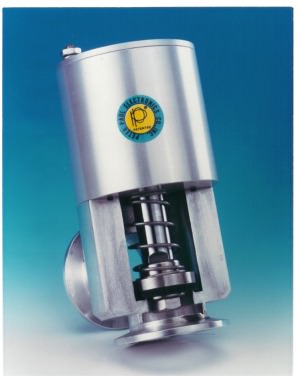 The 50-year-old Peter Paul Electronics Co., through a worldwide distributor network, provides a broad range of standard and miniature solenoid valves; Explosion-Proof, High-Flow, and High Pressure models; complimentary manifolds and stacking valves in stainless, brass, or aluminum; solenoid valve operators for OEM use; and a vast array of body, housing, and coil options for standard and special applications. Most Peter Paul solenoid valves are UL recognized and CSA listed.
For further information, write:
DC Diode Coils
Peter Paul Electronics Co., Inc.
480 John Downey Drive
P.O. Box 1180
New Britain, CT 06050-1180.