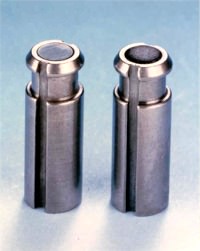 New Britain – Peter Paul now produces Ethylene Propylene Diene Monomer (EPDM) valve seals for high pressure gas applications in place of more absorbent standard rubber seals.
EPDM seals can be applied in medical environments, aerospace projects, and similar uses where gas absorption can interfere with normal equipment operation. EPDM seals are available for most Peter Paul valves lines, particularly in the 20, 30, and 50 Series.
Gas con be adsorbed by the material in standard seals and in instances of low pressure, which causes it to balloon, sometimes even fracture. The unique, high durometer EPDM seals, developed by Peter Paul and used in place of conventional seal material, however, have great resistance and are specified to minimize in-service absorption.
Peter Paul Electronics, established in 1947, provides through worldwide distribution a broad range of standard and miniature solenoid valves, explosion proof, high-flow and high pressure models - most UL and CSA listed; complementary manifolds and stacking bodies in stainless, brass or aluminum; solenoid valve operators for OEM use; and a vast array of body, housing and coil options for standard and special applications.