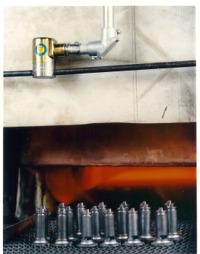 A new line of high-heat solenoid valves and valve operators has been developed by Peter Paul Electronics Co., Inc., New Britain, Connecticut, to meet growing applications typically involving high temperature fluids.
In this heat treat application, a Peter Paul Series 20, 2-way. normally closed, conduit valve controls the air supply for a small, conveyorized heat treat oven at Accurate Brazing Co.
The majority of solenoid valve applications fall within IEEE Class A temperature limits on coil construction. These coils are limited to a total temperature of 105°C. This maximum temperature rating represents the combination of ambient temperature and temperature rise from coil input power with higher wattage coils producing more heat. In addition, media temperature must not raise total temperature beyond the maximum to stay within the class limit. The material construction of the valve and coil, including magnet wire, splicing tape, lead wire insulation, epoxy and other components now have been modified to allow Peter Paul solenoid valves to be rated for higher temperatures than Class A, based on application.
Specifically, Peter Paul has produced a new series of Class "H" high-heat valves with a maximum limit of 180°C for use in industrial applications such as heat treating, where the ambient temperature is likely to be considerably higher than the standard 25°C working environment, requiring the much higher heat limit of Class "H."
The 45-year-old Peter Paul Electronics, through a world-wide distributor network, provides a broad range of Standard, Miniature solenoid valves; Explosion-Proof, High-Flow, and High Pressure models; complimentary manifolds and stacking bodies in stainless, brass, or aluminum; solenoid valve operators for OEM use; and a vast array of body, housing, and coil options for standard and special applications. Most Peter Paul solenoid valves are UL recognized and CSA listed.
For further information, write:
High-Heat Valves
Peter Paul Electronics Co., Inc.
480 John Downey Drive
P.O. Box 1180
New Britain, CT 06050-1180
Phone: 860 229-4884
Fax: 860 223-1734
E-mail: info@peterpaul.com