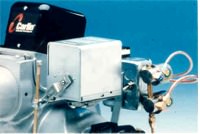 Time delay coils with built-in thermistors have been developed for the Series 30 solenoid valves produced by Peter Paul Electronics Co., Inc., New Britain, Connecticut.
This time delay coil with built-in thermistor (cutaway) is at the heart of the Peter Paul Series 30 solenoid vlaves employed on many oil burners produced by Carlin Combustion Technology Inc. The solenoid valve provides assurance that a spark is present in the burner before oil flow begins
The thermistor circuit in the solenoid valve coil delays the pick up of the valve's plunger from 2 to 6 seconds. This allows the solenoid to be certain of the required process parameters before media flow commences.
A common example is the start-up sequence for an oilburner. It is vital that a sensor in the furnace's electrical circuit "sees" that a flame has been generated to continue the flow of fuel oil. If there is no flame, oil flow may flood the burner, often requiring maintenance or an extended period of time before a re-start can be initiated. When the call activates the burner, the solenoid valve's time delay function allows the pump and fan/motor to reach operating speed before starting fuel flow.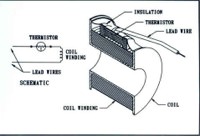 The Peter Paul Series 30 solenoid valve, UL recognized and CSA listed, is frequently used in these boiler and furnace applications because of its economical pricing and compact size. For instance, the Carlin Model 701 dual-rate commercial flame retention oil burner, with two Series 30 valves, operates at 3450 RPM using No.2 oil in the 4-13 gallon per hour firing range and features a unique combustion head for positive flame retention under a wide variety of operating conditions.
The nearly 50-year-old Peter Paul Electronics Co., through a worldwide distributor network, provides a broad range of Standard, Miniature solenoid valves; Explosion-Proof, High-Flow, and High Pressure models; complimentary manifolds and stacking bodies in stainless, brass, or aluminum; solenoid valve operators for OEM use; and a vast
array of body, housing, and coil options for standard and special applications.
For further information, write:
Time Delay Coil, Peter
Paul Electronics Co., Inc.
480 John Downey Drive, P.O. Box 1180
New Britain, CT 06050-1180
Phone: 860-229-4884
Fax: 860-223-1734
E-mail: info@peterpaul.com