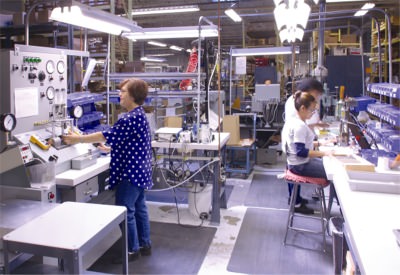 Peter Paul Electronics Co., Inc. is converting its valve and solenoid production operations to Lean manufacturing technology to help meet increasing demand for custom orders and fast delivery. The company already is seeing dramatic benefits.
Mark Mangiafico, Chief Engineer, said that with traditional methods it was becoming increasingly difficult to meet a wide range of customer requirements and stay competitive. The modern marketplace requires more custom-designed products, but simultaneously needs flexibility and option as well as fast turn-around and delivery, he said.
"We had to do something radical," Mr. Mangiafico said. Since implementing the Lean technology to a key product line, "we have cut our lead time for that line from 3 weeks to two days, and we've experienced dramatic decreases in inventory levels."
Peter Paul received assistance from Connecticut Department of Labor, Connecticut Light & Power – a division of Northeast Utilities, and CONNSTEP, Connecticut's Manufacturing Resource Center sponsored by the Connecticut Department of Economic and Community Development. The firm also has received Connecticut's Excellence in Lean Manufacturing award.
Peter Paul Electronics, established in 1947, provides through worldwide distribution a broad range of standard and miniature solenoid valves, Explosion-proof, high-flow and high pressure models – most UL and CSA listed; complementary manifolds and stacking bodies in stainless, brass or aluminum solenoid valve operators for OEM use; and a vast array of body, housing and coil options for standard and special applications.
For further information, contact:
Peter Paul Electronics Co., Inc.
480 John Downey Dr., P.O. Box 1180
New Britain, CT 06050-1180
Phone:860-229-4884
Fax:860-223-1734
E-mail:info@peterpaul.com