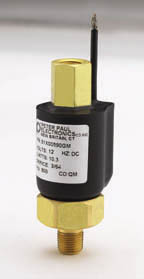 New Britain, CT — Peter Paul Electronics Co., Inc., offers water-resistant solenoid valves featuring a fully encapsulated coil, for applications where exposure to moisture or even complete submersion is necessary.
The Series 15 or 50 valves are intended for a wide range of outdoor uses including HVACR, irrigation systems, off-road equipment, trucks, buses, trains or other vehicles experiencing significant exposure to wet environments, including boat trailers, controls, engine and bilge areas. The valves feature a liquid epoxy potted coil assembly and a rugged housing covered with a baked-on epoxy/polyester finish rated at 1000+ hours in a 5% salt spray test. The potting provides increased heat transfer capabilities through elimination of trapped air pockets for a cooler running valve.
All internal parts are constructed of stainless steel and brass. Corrosion resistant materials are used for exposed parts. The standard version operates on a 12 VDC, single lead power connection. Dual power lead versions can be used for mounting on non-conductive surfaces such as fiberglass, plastic or wood. Additional power options also are available.
Peter Paul Electronics, established in 1947, provides through worldwide distribution a broad range of standard and miniature solenoid valves, explosion proof, high-flow and high pressure models - most UL and CSA listed; complementary manifolds and stacking bodies in stainless, brass or aluminum; solenoid valve operators for OEM use; and a vast array of body, housing and coil options for standard and special applications.
For further information, contact:
Peter Paul Electronics Co., Inc.
480 John Downey Dr., PO Box 1180
New Britain, CT 06050-1180
Phone:860-229-4884
Fax:860-223-1734
E-mail:info@peterpaul.com