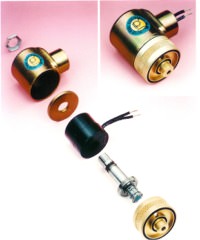 New, brass, screw-in, Series 20 solenoid valve bodies offering simplified assembly, disassembly, and field replacement are now produced with enlarged ports for higher flow applications.
Our large port, screw-in, Series 20 valve bodies for simplified manifold mounting are now offered in brass for compatibility with a broad range of liquid and gaseous process media and with existing brass, anodized aluminum, and stainless steel manifold designs. Dual O-rings in these screw-in valve bodies virtually eliminate the possibility of leakage and provide attractively high burst pressure ratings.
The Series 20 screw-in valve body's speed and simplify valve-to-manifold attachment in processes involving liquid or gaseous media compatible with brass. Assembled barely more than finger tight, these brass bodies incorporate two O-rings t help eliminate leakage and provide the required high burst pressure ratings. Brass valve bodies are offered for use with brass or anodized aluminum manifolds where media compatibility is not a problem.
These unique, screw-in valve bodies (1/2-20" male UNF-2A port) are available for many of our standard valve models and are used for both conventional, one-piece machined manifolds or with our proprietary modular solenoid valve building block manifolds