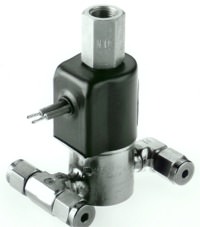 It may come as a surprise to learn (it was for us) that about 80% of the product information calls from our distributors involve special, unique, and nonstandard applications, for our solenoid valves. While most Peter Paul distributors can handle typical inquiries for the products in our catalog, the bulk of questions are about specials of one kind or another involving existing models with internal or external modifications required. It's amazing, in fact, how simple it often is to modify an existing valve to meet a new user spec. And how easy it is for us to output drawings from our CAD system to show the prospective customer how we're going to do the job.
For instance, a customer asked us (through a distributor) to modify a standard Series 50, 3-way, Directional Control valve with stainless steel components and FKM seals for oxygen service to incorporate special welded fittings (one tee and one elbow) with threaded ends as shown in the three dimensional view above.
These modifications of standard Series 50 drawings took a few minutes t o complete by CAD. They were immediately faxed to the customer and approved. The result, as you can see above (right), is a valve with relatively simple external modifications, which precisely meets the requirements of the user's application. Five easy steps: Request; drawings; mechanical; prototype; production.