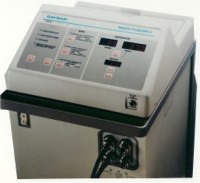 A new hyperthermial/hypothermia system, the Medi-Therm II from Gaymar Industries in western New York, now incorporates our specialized solenoid valves to maintain precise fluid flow and temperature control.
The Gaymar Medi-Therm II hyperthermia/hypothermia therapy console incorporates two Peter Paul Series 20 solenoid valves (inset) with diode-rectified coils and plunger-to-end stop bumpers for smooth, noise-free, low heat rise operation. The valves provide liquid flow control at +/- 1°C for regulated heat or cold therapy.
Medi-Therm II, based on 25 years of hyper/hypothermia experience, incorporates a simple, touch panel console to program hours of regulated heat and cold therapy. Separate heating and cooling reservoirs provide rapid heat-up and cool-down rates to achieve the desired patient therapy in cases ranging from serious burns to sub-zero accidents. The therapy is applied through a series of plastic/non-woven fabric mattress blankets, which contact the patient.
Fluid flow and temperature at +/- 1°C are controlled by a pair of our Series 20, diode coil, two-watt, Normally Closed solenoid valves. Designed for quiet hospital applications, these valves incorporate a urethane bumper between the plunger and end stop, creating a rubber-to-metal contact within each valve to virtually eliminate the on/off click of the valve during operation. In addition, Nordel seals are used to handles the warm, 42°C water in the system.
Each valve's potted coil with diode circuit converts the 120 VAC, 50/60 Hz current to DC to slow the valve down, to further enhance its quiet operation, and to lower the heat rise often encountered with fast cycling AC solenoids. These diode-rectified valves are specified for an increasingly wide range of hospital and laboratory devices.
The 55-year-old Peter Paul Electronics provides, through distributors
worldwide, a broad range of standard and miniature solenoid valves;
Explosion-Proof, high-flow, and high pressure models; complementary
manifolds and stacking bodies in stainless, brass, or aluminum; solenoid
valve operators for OEM applications; and a vast array of body, housing,
and coil options for specialty valve construction. Most Peter Paul
solenoid valves are UL and CSA listed.
For further information, write:
Peter Paul Electronics Co., Inc.
480 John Downey Drive, P.O. Box 1180
New Britain, CT 06050-1180
Phone: 860-229-4884
Fax: 860-223-1734
E-mail: info@peterpaul.com