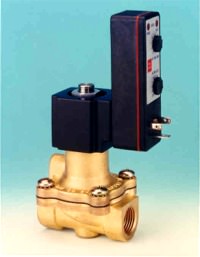 For applications such as draining condensation in compressed air systems, Peter Paul Electronics Co., Inc., New Britain, Connecticut, has added a solid state timer accessory to the Series 80 group of 5/8" iameter orifice, solenoid operated, 2-way, normally closed diaphragm valves. The integrated timer and valve combination is used for many on/off cycle applications.
Peter Paul Series 80 Solenoid operated diaphragm valves with internal pilot may now be specified with a solid state timer for applications such as draining condensation in compressed air systems. The timer features power/operation status lights, pushbutton manual override, and adjustable off time of 1-45 minutes and on time of 0.25-25.0 seconds.
In operation, the off-cycle is initiated with the application of power to the valve's input terminals. At the end of the pre-set off time, the solenoid is energized and the on-cycle begins. At the conclusion of the pre-set on time, power is removed from the solenoid and a new cycle begins; this cycling continues until the power is removed from the valve's input terminals.
The solid state timer provides 1-45 minute adjustable off time and 0.25 sec. to 25.0 sec. adjustable on time with push button manual override and status lights to indicate power and operation. Pressures of 5-150 psi through 1/2 NPT portings; voltages of 120/60, 110/50, and 240 VAC; and 9.5 watts normal power consumption are standard.
The Series 80 valve with timer is a 2-3/4" x 6" x 3-17/64" package in which the timer and coil may be rotated 360° for installation convenience. The timer may also incorporate DIN male connector for wiring directly into a system.
The 55-year-old Peter Paul Electronics Co., through a worldwide distributor network, provides a broad range of standard and miniature solenoid valves; Explosion-Proof, High-Flow, and High Pressure models; complimentary manifolds and stacking valves in stainless, brass, or aluminum; solenoid valve operators for OEM use; and a vast array of body, housing, and coil options for standard and special applications. Most Peter Paul solenoid valves are UL recognized and CSA listed.
For further information, write:
Series 80 With Timer
Peter Paul Electronics Co., Inc.
480 John Downey Drive, P.O. Box 1180
New Britain, CT 06050-1180.
Phone: 860-229-4884
Fax: 860-223-1734
E-mail: info@peterpaul.com