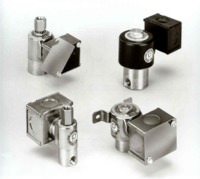 An optional, 2-3/16" x 1-25/32" x 1-1/2" splice box housing has been announced by Peter Paul Electronics Co., Inc., New Britain, Connecticut, to allow field wiring directly to any Peter Paul conduit-style solenoid valve.
The splice box housing option, shown here with a variety of Peter Paul solenoid vlaves, provides space for multiple wiring hookups, three 7/8" knockouts, and an easy access cover for quick and inexpensive field wiring connections directly to the solenoid valve.
Designed to save a conduit run and remote connection box, the copper brazed steel splice box offers three, standard, 7/8" diameter knockouts to provide wiring access from different locations. Solenoid valve coil leads are 6", #18 wire; a ground terminal screw is provided inside the box. Optional wall or panel mounting brackets may also be specified as required.
Any standard Peter Paul Series 20, 30, 50, or 70 Series solenoid valve can be mated to the splice box, which will be UL listed for use with UL listed valves.
The 45-year-old Peter Paul Electronics provides, through distributors worldwide, a broad range of standard and miniature solenoid valves; explosion-proof, high-flow, and high pressure models; complimentary manifolds and stacking bodies in stainless, brass, or aluminum; solenoid valve operators for OEM applications; and a vast array of body, housing, and coil options for specialty valve construction. Most Peter Paul solenoid valves are UL and CSA listed.
For further information, write:
Splice Box
Peter Paul Electronics Co., Inc.
480 John Downey Drive, P.O. Box 1180
New Britain, CT 06050-1180
Phone: 860-229-4884
Fax: 860-223-1734
E-mail: info@peterpaul.com