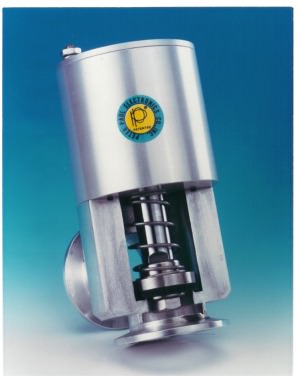 Additions to the Peter Paul line of molded Series 58 solenoid valves have been announced with the development of two stainless steel bodies. These bodies supplement the existing six models of plastic valves currently used in portable medical devices, analyzers, portable test equipment, and similar applications.
Two, new, Peter Paul Series 58 valves with stainless steel bodies are (left) 2-Way, NC, stud mount, and coil with lead wires; (right) 3-Way NC, piped exhaust , 10/32 ports, and coil with lead wires.
These stainless steel bodies represent an option for the 58 valves while retaining all the same coil options, voltages, wattages, orifice sizes, pressure ratings, and elastomers.
Two stainless steel models are offered in both 2-Way and 3-Way versions: A stud mount, utilizing a 10/32 stud as the orifice connection and an annular groove as the cavity connection. These connections are separated and sealed with O-rings. The other body style uses 10/32 female ports for both the cavity and orifice connections. Optionally, the user can upgrade from the plastic bodied Series 58 to either of the stainless steel bodies.
The 45-year-old Peter Paul E1ectronlcs provides, through distributors worldwide, a broad range of standard and miniature solenoid valves; explosion-proof, high-flow, and high pressure models; complimentary manifolds and stacking bodies in stainless, brass, or aluminum; solenoid valve operators for OEM applications; and a vast array of body, housing, and coil options for specialty valve construction. Most Peter Paul solenoid valves are UL and CSA listed.
For further information, write:
Miniature Stainless Steel Valves
Peter Paul Electronics Co., Inc.
480 john Downey Drive, P.O. Box 1180
New Britain, CT 06050-1180.
Phone: 860-229-4884
Fax: 860-223-1734
E-mail: info@peterpaul.com