As printed in the program by the University of Connecticut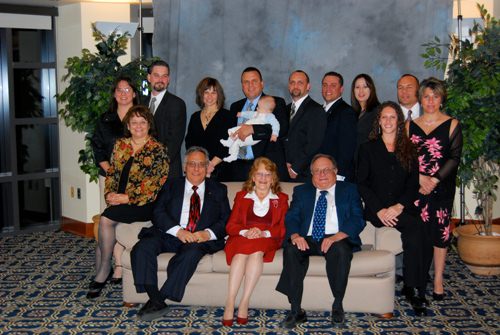 Peter Paul Electronics Company - Large Business Category
In 1918, an Italian immigrant by the name of Paul Mangiafico came to the United States and settled in New Britain. A barber by trade since the age of 14, Paul became one of the original beauticians in New Britain opening up several salons before founding Peter Paul Electronics Company in 1947.
Paul and his wife, Josephine, were intent on providing a firm future for their three children growing the business into Fajardo Puerto Rico and establishing Peter Paul Electric in 1972. All three children grew up at the business making coils during school breaks and eventually settled in to work full-time. Lucy, Paul and Josephine's eldest child, joined the firm and worked in the sales and customer service functions.; Paul (their middle child) joined the firm and now serves as Executive Vice President of Peter Paul Electric in Puerto Rico; and Michael (the youngest child) joined the firm and now serves as Executive Vice President of Peter Paul Electronics Company in New Britain.
Paul and Michael's wives, Sandy and Ginny, joined the firm as well as the third generation comprised of two of Paul's three children (Mark and Gary) and all four of Michael's children (Shelly, Michael, Kevin and Lisa). Mark serves as engineering manager, having earned a degree in Electrical Engineering; Gary works as sales engineer, also having studied Electrical Engineering and earning a minor in Business Management; Shelly worked as an inside sales representative, generating 400 - 500 leads per month prior to retiring in 2004 to care for her children at home; Michael works as Operations Manager, having earned a degree in Accounting and Operations Management; Kevin is Vice President of Peter Paul Electric in Puerto Rico and initiated many of the lean manufacturing initiatives at Peter Paul Electronics and Peter Paul Electric; and Lisa serves as Market Research Analyst, having majored in Marketing Management.
The company's outstanding success can be partially contributed to their excellence in Lean Manufacturing. They have modeled 5S, Kanban, and Kaizan best practices, and are in the process of completing the requirements to become ISO certified. As such, the company has received many outstanding awards and recognitions including the Small Business Exporter of the Year given by the Small Business Administration, Excellence in Lean Manufacturing given by Connstep for increasing productivity in the Series 50-15 solenoid valve line by 30%, Certificate of Quality issued by Underwriters Laboratories Inc, and Certificate of Appreciation given by the National Association of Manufacturing of the United States of America for developing and advocating sound industrial practices and domestic and international policies to further the economic and social well being of the nation and the American people.
The Mangiafico family is deeply embedded in their community not just for being a major contributor to economic growth and development of the city of New Britain, but also for supporting various programs for child safety, Junior Achievement, and school to business partnership programs. They have sponsored interns from around the world and family members also serve on various philanthropic boards such as Capital Workforce Partners and the YWCA of New Britain.