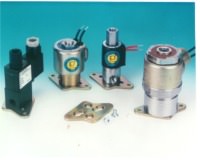 The bodies of all our solenoid valves offer an underside pair of drilled and tapped holes fro easy mounting. But where the mounting surface is very thick or physically inaccessible, a simple top mounting is desirable.
Our new universal mounting bracket is shown here attached to (left to right) Series 15, 30, 50 and 70 solenoid valves. The zinc plated, carbon steel bracket (foreground) is provided with screws.
For such applications, we have developed a universal, plated steel-mounting bracket, part number 20-2428, for individual solenoid valves in Series 15, 20, 30, 50 and 70. Provided with screws ands several countersunk hole configurations, the brackets are easily installed and may be used in virtually any operating environment.