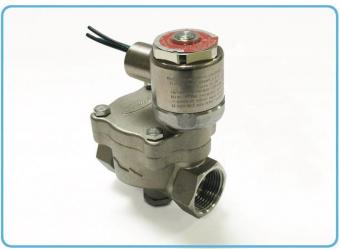 ---
PeterPaul offers a line of Hazardous Location rated, large orifice Automatic Safety Shut Off Valves designed specifically for gas appliances. These valves meet the standards for Commercial/Industrial (C/I) Safety Shut Off Valves per ANSI Z21.21 (CSA 6.5). They are well suited for use in heating equipment, furnaces, ovens, kilns, boilers and gas generators.
Large orifice sizes for high capacity.
Body is made of 316 stainless steel.
Potted coil for outdoor service.
Pilot operated.
Voltages: 120/60, 12/DC and 24/DC
Power Input: 1.8 watts
Rated for ambient temperatures of -40°C to +65°C
NPT threaded connections.
* Consult representative or factory for options and specifications