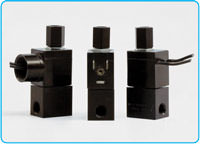 Series 15 Model 151
2-Way Normally Open Valve
The little black box — magnetic components encased in epoxy for durability and reliability. Interior parts are stainless steel and anodized aluminum. The valves may be used with air, inert gas and liquid media at pressures from vacuum to 400 psi — depending upon orifice size and configuration. For those who require extra heat resistance and media compatibility, FKM and other elastomers are available.
• Small, lightweight and economical.
• Operating pressures from vacuum to 400 psi.
• Quality design and construction.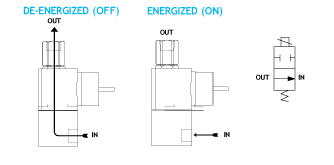 SPECIFICATIONS
2-D & 3-D CAD DRAWING
FLOW CHART
NOMENCLATURE
VALVE SPECIFICATIONS
MAX. OPER.
PRESS. DIFF.
ORIFICE SIZE
CV FACTOR
VALVE NUMBER
AC
DC
N.O.
N.O.
LEAD WIRE
DIN STYLE
CONDUIT HOUSING
400
400
1/32
.020
151G2XGM
151G2XEM
151G2XCM
200
200
3/64
.048
151H2XGM
151H2XEM
151H2XCM
125
125
1/16
.075
151J2XGM
151J2XEM
151J2XCM
40
40
3/32
.130
151K2XGM
151K2XEM
151K2XCM
WHEN ORDERING VALVES OR REPAIR PACKS ADD VOLTAGE AND FREQUENCY TO COMPLETE
VALVE NUMBER. EXAMPLES: VALVE (151J2XGM-120/60) REPAIR PACK (K151JX-AC)
OPERATING CONDITIONS
Media: Air, water, and other fluids compatible with standard Buna seals. Hot water, steam, gasoline, and many oils require special seal materials. (Series 15 pressure ratings may change due to the viscosity of the liquid.)*
Valve Temperature Range: Standard Valves – 0°F (-18°C) to 104°F (40°C) ambient; 0°F (-18°C) to 150°F (65°C) media. Optional Valves – can tolerate much higher or much lower ambient and media temperatures.*
Maximum Operating Pressure Differentials: See table above.
Burst Pressure: 5,000 PSI
Leakage: Bubble tight for standard valves.
Vacuum: To 5 Microns*
ELECTRICAL CHARACTERISTICS
Coil Voltage: 4.8 to 277V AC 60 HZ. and 4.4 to 255V AC 50 HZ. — 3.0 to 180V DC
Nominal Power: AC — 8.5 Watts, DC — 10.5 Watts
Coil Construction: Molded Class F. (155°C)
Typical Response Time on Air: 4 - 16 Milliseconds
Operating Speed: Up to 600 CPM
Duty Cycle: Continuous
MECHANICAL CHARACTERISTICS
Body: Anodized Aluminum (Std.)
Internal Components: Stainless Steel
Elastomers: Nitrile (Buna) (Std.). Many other elastomers available.*
Orifice Diameter: See table above.
Porting: 1/8" NPT (Std.)
Housing: Leadwires, 1/2" NPT Conduit and DIN Style Connector.
Listings: Most valves are UL and CSA listed.*
Life Expectancy: Millions of cycles, depending on application, lubrication, etc.
Valve Weight: 0.27 lb to 0.30 lb depending on model and housing style.
Repair Packs: See table above.
Options: Round Brass or Stainless Steel Body, Stackable Construction, Alternate Elastomers and Magnetic Latching Coil. Female DIN Style Connector Part Number 50-17029 *
* Consult representative or factory for options and specifications.
Series 15 General Purpose Valves

2WNO DIN STYLE COIL
ALUMINUM BODY
WITH 1/8-27 NPT PORTS

2WNO DIN STYLE COIL
ALUMINUM BODY
WITH 1/8-27 NPT PORTS

2WNO MOLDED COIL WITH LEADS
ALUMINUM BODY
WITH 1/8-27 NPT PORTS