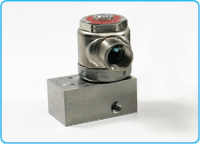 Series 20 Model EH21
Hazardous Location High Pressure
2-Way Normally Open Valve
This valve uses the same kinetic energy impact mechanism as the EH22 but incorporates an internal rocker arm to reverse the action of the sealing pin. The kinetic energy of the plunger is applied to one end of the rocker arm when the coil is de-energized. This lifts the sealing pin, on the opposite end of the rocker arm, against the force of high pressure. A return spring acts directly on the pin, sealing the orifice when the coil is energized. For use on Air and other non-corrosive gasses, water and oil.
• Precision stainless steel rocker arm.
• Kel-F pin sealing element.
• Orifice guides the sealing pin for near perfect alignment.
• Simple construction...only three moving parts.
• Explosion proof construction.



SPECIFICATIONS
2-D & 3-D CAD DRAWING
FLOW CHART
NOMENCLATURE
VALVE SPECIFICATIONS
MAX. OPER.
PRESS. DIFF.
ORIFICE SIZE
CV FACTOR
VALVE NUMBER
CONDUIT HOUSING
GAS
LIQUID
N.O.
N.O.
GAS 1/8 NPT
LIQUID 1/8 NPT
3000
3000
1/32
.024
EH21G7DCCM
EH21G7DCCM
2500
1500
3/64
.052
EH21H7DCCMG
EH21H7DCCML
1350
850
1/16
.095
EH21J7DCCMG
EH21J7DCCML
450
300
3/32
.156
EH21K7DCCMG
EH21K7DCCML
WHEN ORDERING VALVES OR REPAIR KITS ADD VOLTAGE AND FREQUENCY TO COMPLETE
VALVE NUMBER. EXAMPLES: VALVE (EH21J7DCCMG 120/60) REPAIR KIT (2KEH21J-AC)
OPERATING CONDITIONS
Media: Air and other non-corrosive gasses, water and oil.
Filtration: Down to 60 microns or less is recommended.
Valve Temperature Range: Standard Valves – 0°F (-18°C) to 104°F (40°C) ambient; 0°F (-18°C) to 150°F (65°C) media. Optional Valves – can tolerate much higher or much lower ambient and media temperatures.*
Maximum Operating Pressure Differentials: See table above.
Burst Pressure: 5,000 PSI
Leakage: Bubble tight
ELECTRICAL CHARACTERISTICS
Coil Voltage: 6 to 825V AC 60 HZ. and 5 to 720V AC 50 HZ.— 1.8 to 265V DC
Nominal Power: AC — 7.3 Watts DC — 9.5 Watts
Coil Construction: Molded Class F with third wire ground (Std.), Class H or Potted (Opt.)
Typical Response Time on Air: 4 - 16 Milliseconds
Operating Speed: Up to 600 CPM with gas media
Duty Cycle: Continuous
MECHANICAL CHARACTERISTICS
Body: 300 Series Stainless Steel
Internal Components: Stainless Steel
Elastomers: Nitrile (Buna) (Std.). Many other elastomers available.*
Sealing Pin: Kel-F (Std.), Delrin®, Teflon®, Nylon, PEEK, Radel®, Ultem®, 303 Stainless Steel (Opt.)
Orifice Diameter: See table above.
Porting: 1/8" NPT
Housing: Flame-Proof Construction with 1/2" NPT conduit
Mounting: Must be mounted within 30° of vertical.
Listings: Valves are UL listed and CSA certified for Hazardous Locations — Class I, Div 1, Group C and D – Class II, Div 1, Group E, F, and G; Div 2 Groups A, B, C, D, E, F, and G.
Life Expectancy: Millions of cycles, depending on application, lubrication, etc.
Valve Weight: 2.38 lbs
Repair Kits: See table above.
Options: Alternate Sealing Pin Materials and Alternate Elastomers*
* Consult representative or factory for options and specifications.
Series 20 High Pressure Valves

SERIES 20 MODEL EH21
EXPLOSION PROOF/HIGH PRESSURE
2WNO