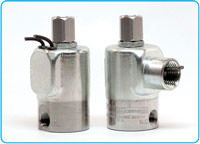 Series 20 Model H21
High Pressure
2-Way Normally Open Valve
This valve uses a pin style seal. The pin is guided into the orifice. For use on air and other non-corrosive gases, water and oil.

• Kel-F pin sealing element.
• Orifice guides the sealing pin for perfect alignment.
• Simple construction...only three moving parts.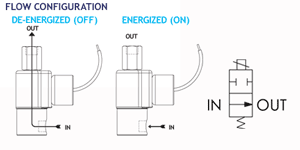 SPECIFICATIONS
2-D & 3-D CAD DRAWING
FLOW CHART
NOMENCLATURE
VALVE SPECIFICATIONS
MAX. OPER. PRESS. DIFF.
ORIFICE SIZE

CV FACTOR

VALVE NUMBER
GROMMET HOUSING
CONDUIT HOUSING
DC
N.O.
N.O.
1/8" NPT PORTS
1/4" NPT PORTS
1/8" NPT PORTS
1/4" NPT PORTS
2000
.6mm
.010
H21M7XGM
H21M9ZGM
H21M7XCM
H21M9ZCM
WHEN ORDERING VALVES OR REPAIR PACKS ADD VOLTAGE AND FREQUENCY TO COMPLETE
VALVE NUMBER. EXAMPLES: VALVE (H21M7XGM 120/60) REPAIR PACK (KH21MX-AC)
OPERATING CONDITIONS
Media: Air and other non-corrosive gasses, water and oil.
Filtration: Down to 60 microns or less is recommended.
Valve Temperature Range: Standard Valves – 0°F (-18°C) to 104°F (40°C) ambient; 0°F (-18°C) to 150°F (65°C) media. Optional Valves – can tolerate much higher or much lower ambient and media temperatures.*
Maximum Operating Pressure Differentials: See table above.
Burst Pressure: 10,000 PSI
Leakage: Bubble tight
ELECTRICAL CHARACTERISTICS
Coil Voltage: 1.8 to 265V DC
Nominal Power: DC — 9.5 Watts
Coil Construction: Molded (Std.), Non-molded Class A and Potted Class F or Class H (Opt.)
Typical Response Time on Air: 4 - 16 Milliseconds
Operating Speed: Up to 600 CPM with gas media
Duty Cycle: Continuous
MECHANICAL CHARACTERISTICS
Body: Stainless Steel
Internal Components: Stainless Steel
Sealing Pin: Kel-F (Std.), Delrin®, Teflon®, Nylon, PEEK, Radel®, Ultem®, 303 Stainless Steel (Opt.)
Orifice Diameter: See table above.
Porting: 1/8" NPT and 1/4" NPT (other ports available).
Housing: Grommet and 1/2" NPT conduit
Life Expectancy: Millions of cycles, depending on application, lubrication, etc.
Valve Weight: 1.19 lbs
Repair Packs: See table above.
Options: Alternate Elastomers, Alternate Sealing Pin Materials, Spade Terminal Coil, and European Style DIN*
* Consult representative or factory for options and specifications.
Series 20 High Pressure Valves Conduit Connection

2WNC HIGH PRESSURE
1/4 NPT
CONDUIT CONNECTION

2WNC HIGH PRESSURE
1/8 NPT
CONDUIT CONNECTION
Series 20 High Pressure Valves DIN Connection

2WNC HIGH PRESSURE
1/4 NPT
DIN STYLE COIL

2WNC HIGH PRESSURE
1/8 NPT
DIN STYLE COIL
Series 20 High Pressure Valves Grommet Connection

2WNC HIGH PRESSURE
1/4 NPT
GROMMET STYLE COIL
2WNC HIGH PRESSURE
1/8 NPT
GROMMET STYLE COIL
Series 20 High Pressure Valves Yoke Leads

HIGH PRESSURE
1/4 NPT
YOKE & LEADS COIL

2WNC HIGH PRESSURE
1/8 NPT
YOKE & LEADS COIL
Series 20 High Pressure Valves Yoke Spades

2WNC HIGH PRESSURE
1/4 NPT
YOKE & SPADES COIL

2WNC HIGH PRESSURE
1/8 NPT
YOKE & SPADES COIL