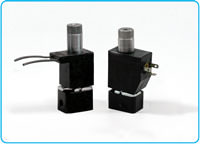 Series 58 Model 585
Low Watt
3-Way Directional Control Valve
Easily interfaced with circuit boards and miniaturized components. The versatility is for connecting electronic signals to pneumatic outputs. The small size is ideal for stand alone (with #10-32 UNF-2B ports) or multiple valves mounted on one manifold. Air and other common gases — filtration recommended — 30 microns or less.
• May be used to "pilot" larger valves.
• Ideal for micro electronic production equipment.
• Great for medical and chemical analytical applications.
• Can operate directly from most programmable controllers.
• High quality engineering.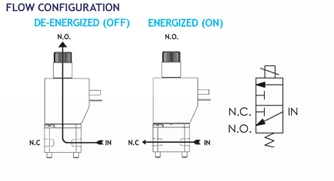 SPECIFICATIONS
2-D & 3-D CAD DRAWING
FLOW CHART
NOMENCLATURE
VALVE SPECIFICATIONS
MAX. OPER.
PRESS. DIFF.
ORIFICE SIZE
CV FACTOR
VALVE NUMBER
AC
DC
N.C.
N.O.
N.C.
N.O.
LEADWIRE
MICRO DIN
300
300
0.6 mm
0.6 mm
.010
.010
585AA19PGM
585AA19PE
200
200
0.8 mm
0.8 mm
.020
.020
585FF19PGM
585FF19PE
50
50
1.0 mm
1.0 mm
.030
.030
585MM19PGM
585MM19PE
35
35
1.2 mm
1.2 mm
.034
.034
585WW19PGM
585WW19PE
WHEN ORDERING VALVES OR REPAIR PACKS ADD VOLTAGE AND FREQUENCY TO COMPLETE
VALVE NUMBER. EXAMPLES: VALVE (585MM19PGM 120/60) REPAIR PACK (K585MM19 AC)
OPERATING CONDITIONS
Media: Air and other common gases — filtration recommended — 30 microns or less.
Valve Temperature Range: Standard Valves – 5°F (-15°C) to 122°F (50°C) ambient; media.
Maximum Operating Pressure Differentials: See table above.
Burst Pressure: 1500 PSI
Leakage: Bubble tight for standard valves.
Vacuum: To 5 Microns*
ELECTRICAL CHARACTERISTICS
Coil Voltage: 14 to 220V AC 60 HZ. and 13 to 202V AC 50 HZ.— 3.0 to 150V DC
Nominal Power: AC — 3.5 Watts, DC — 3.5 Watts
Coil Construction: Molded Class A with leadwires and Micro DIN.
Typical Response Time on Air: AC — 3 to 9 Milliseconds, DC — 9 Milliseconds
Operating Speed: Up to 1000 CPM
Duty Cycle: Continuous
MECHANICAL CHARACTERISTICS
Body: Polyester Plastic (Std.), Round Brass or Stainless Steel (Opt.)
Internal Components: Stainless Steel
Elastomers: Nitrile (Buna) (Std.). Many other elastomers available.*
Orifice Diameter: See table above.
Porting: #10-32 UNF-2B
Life Expectancy: Millions of cycles, depending on application, lubrication, etc.
Valve Weight: 0.13 lbs
Repair Packs: See table above.
Options: Round Stainless Steel or Brass Body, Male Stud Mount, Manual Override, M5 Ports and Manifold Mount*
* Consult representative or factory for options and specifications.
Series 58 Model 585 Molded Leads

3W DIRECTIONAL CONTROL
MOLDED COIL WITH LEADS
PLASTIC BODY WITH 10-32 PORTS

3W DIRECTIONAL CONTROL
PIPED EXHAUST
MOLDED LEAD STYLE COIL
STAINLESS STEEL BODY WITH 10-32 PORTS

3W DIRECTIONAL CONTROL
PIPED EXHAUST
MOLDED LEADS STYLE COIL
MANIFOLD MOUNT PLASTIC BODY
WITH MANUAL OVERRIDE

3W DIRECTIONAL CONTROL
PIPED EXHAUST
MOLDED LEADS COIL
MANIFOLD MOUNT PLASTIC BODY

3W DIRECTIONAL CONTROL
PIPED EXHAUST
MOLDED LEADS COIL
STUD MANIFOLD MOUNT
WITH STAINLESS STEEL BODY
Series 58 Model 585 DIN

3W DIRECTIONAL CONTROL
DIN STYLE COIL
PLASTIC BODY WITH 10-32 PORTS

3W DIRECTIONAL CONTROL
PIPED EXHAUST
DIN STYLE COIL
STAINLESS STEEL BODY WITH 10-32 PORTS

3W DIRECTIONAL CONTROL
PIPED EXHAUST
DIN STYLE COIL
MANIFOLD MOUNT PLASTIC BODY
WITH MANUAL OVERRIDE

3W DIRECTIONAL CONTROL
PIPED EXHAUST
DIN STYLE COIL
MANIFOLD MOUNT PLASTIC BODY

3W DIRECTIONAL CONTROL
PIPED EXHAUST
DIN STYLE COIL
STUD MANIFOLD MOUNT
STAINLESS STEEL BODY