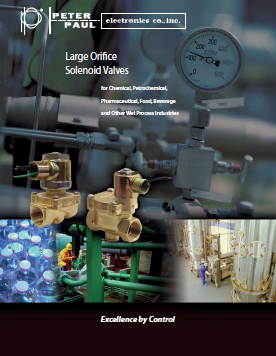 New Britain, CT - Peter Paul has released a new, four-page, full-color brochure on their Series 80 line of large orifice solenoid valves. Series 80 valves effectively address process industry requirements for high flow rate or quick dump and fill capacity. These AC or DC powered valves are also suited for low pressure gas and liquid applications.
Port sizes range from 1/2" to 3" NPT, with pressure ratings from 0 to 200 PSI. Direct- Lift and Internal Pilot models are available in Normally Closed, Normally Open and Explosion Proof versions. Multiple housing and coil options are offered. Standard bodies are forged brass, with NPT threaded connections. Seal material is either Buna, EPDM, FKM or Neoprene. Stainless steel valves and a solid state timer are also available.
Peter Paul Electronics, established in 1947, provides through worldwide distribution a broad range of standard and miniature solenoid valves, explosion proof, high-flow and high pressure models - most UL and CSA listed; complementary manifolds and stacking bodies in stainless, brass or aluminum; solenoid valve operators for OEM use; and a vast array of body, housing and coil options for standard and special applications.
For further information, contact: Peter Paul Electronics Co., Inc.
480 John Downey Dr. PO Box 1180
New Britain, CT 06050-1180
Phone: 860-229-4884
FAX: 860-223-1734
E-MAIL: info@peterpaul.com