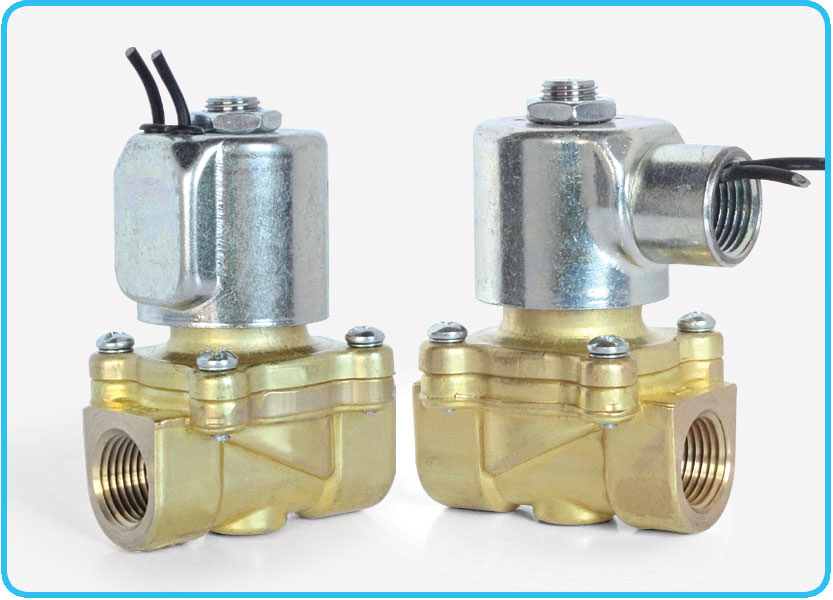 Series 80 Model 827
Large Orifice, Direct Lift
2-Way Normally Closed Valve
Peter Paul offers a line of large orifice solenoid valves to address process industry requirements for high flow rate or quick dump and fill capacity. These AC or DC powered valves are also suited for low pressure gas and liquid applications. Port sizes for direct lift, two way normally closed versions range from 3/8" to 3/4" NPT, with pressure ratings from 0 to 100 PSI.
• Large orifice sizes for high flow applications.
• Body is made of brass forgings.
• Operates at low pressure without any differential pressure across the diaphragm — Direct Lift.
• NPT threaded connections.
• Same coils and housings as our popular 20 Series.
• Direct Lift model is available in Normally Closed Only.



SPECIFICATIONS
2-D & 3-D CAD DRAWING
FLOW CHART
NOMENCLATURE
VALVE SPECIFICATIONS
MAX. OPER.
PRESS. DIFF.
MIN. OPER.
PRESS. DIFF.
ORIFICE SIZE
CV FACTOR
VALVE NUMBER
GROMMET HOUSING
CONDUIT HOUSING
AC
DC
 N.C.
N.C.
100
40
0
1/2
4.0
827T20DGM
827T20DCM
100
40
0
1/2
4.0
827B12DGM
827B12DCM
100
30 (75) +
0
3/4
5.8
827Y19DGM
827Y19DCM
+ Ratings in brackets are optional extended ratings; consult factory.
WHEN ORDERING VALVES OR REPAIR PACKS ADD VOLTAGE AND FREQUENCY TO COMPLETE
VALVE NUMBER. EXAMPLES: VALVE (827B12DGM 120/60) REPAIR PACK (K827BD-AC)
OPERATING CONDITIONS
Media: Air, water, and other fluids compatible with Buna seals. Hot water, steam, gasoline and many oils require special seal materials. Consult representative or factory. (Series 80 pressure ratings may change due to the viscosity of the liquid.)*
Valve Temperature Range: Standard Valves – 0°F (-18°C) to 104°F (40°C) ambient; 0°F (-18°C) to 150°F (65°C) media. Optional Valves – can tolerate much higher or much lower ambient and media temperatures.*
Maximum Operating Pressure Differentials: See table above.
Leakage: Bubble tight
ELECTRICAL CHARACTERISTICS
Coil Voltage: 6 to 825V AC 60 HZ. and 5 to 720V AC 50 HZ. — 1.8 to 265V DC
Nominal Power: AC — 7.7 Watts DC — 9.5 Watts
Coil Construction: Molded (Std.), Non-molded Class A and Potted Class F or Class H (Opt.)
Operating Speed: Up to 100 CPM
Duty Cycle: Continuous
MECHANICAL CHARACTERISTICS
Body: Brass (Std.), 316 Stainless Steel (Opt.)
Internal Components: Stainless Steel (Std.)
Elastomers: Nitrile (Buna) (Std.). Many other elastomers available.*
Housing: Grommet and 1/2" NPT conduit — many options available.*
Life Expectancy: Millions of cycles, depending on application, lubrication, etc.
Repair Packs: See table above.
Options: Alternate Elastomers, Spade Terminal Coil, European Style DIN, Explosion Proof, Magnetic Latching Coil and Solid-State Timer for use with DIN Coil*
* Consult representative or factory for options and specifications.
Series 80 Internal Pilot Valves Conduit

CONDUIT CONNECTION
2WNC DIRECT LIFT
1/2" NPT PORTS

CONDUIT CONNECTION
2WNC DIRECT LIFT
3/4" NPT PORTS

CONDUIT CONNECTION
2WNC DIRECT LIFT
3/8" NPT PORTS
Series 80 Internal Pilot Valves DIN

DIN COIL
2WNC DIRECT LIFT
1/2" NPT PORTS

DIN COIL
2WNC DIRECT LIFT
3/4" NPT PORTS

DIN COIL
2WNC DIRECT LIFT
3/8" NPT PORTS
Series 80 Internal Pilot Valves Grommet

GROMMET WITH LEADS
2WNC DIRECT LIFT
1/2" NPT PORTS
GROMMET WITH LEADS
2WNC DIRECT LIFT
3/4"NPT PORTS

GROMMET WITH LEADS
2WNC DIRECT LIFT
3/8" NPT PORTS
Series 80 Internal Pilot Valves Yoke Leads

YOKE WITH LEADS
2WNC DIRECT LIFT PORTS
1/2" NPTP

YOKE-LEADS
2WNC DIRECT LIFT
3/4" NPT PORTS

YOKE-LEADS
2WNC DIRECT LIFT
3/8" NPT PORTS
Series 80 Internal Pilot Valves Yoke Spades

YOKE WITH SPADES
2WNC DIRECT LIFT
1/2" NPT PORT

YOKE - SPADES
2WNC DIRECT LIFT
3/4" NPT PORTS

YOKE - SPADES
2WNC DIRECT LIFT
3/8" NPT PORTS
Coming Soon